Bauma 2019 Fair Launch: Brand-New Hydraulic Steering Low-Bed from Kässbohrer: K.SLH 3
08 April 2019
Europe's fastest growing semi-trailer manufacturer Kässbohrer exhibits vehicles from its complete construction product range during bauma 2019. At the heartbeat of the construction industry, Kässbohrer launches its brand-new hydraulic steering Low-Bed K.SLH 3.
Maximum Maneuverability on the Narrowest Curves in Rural Areas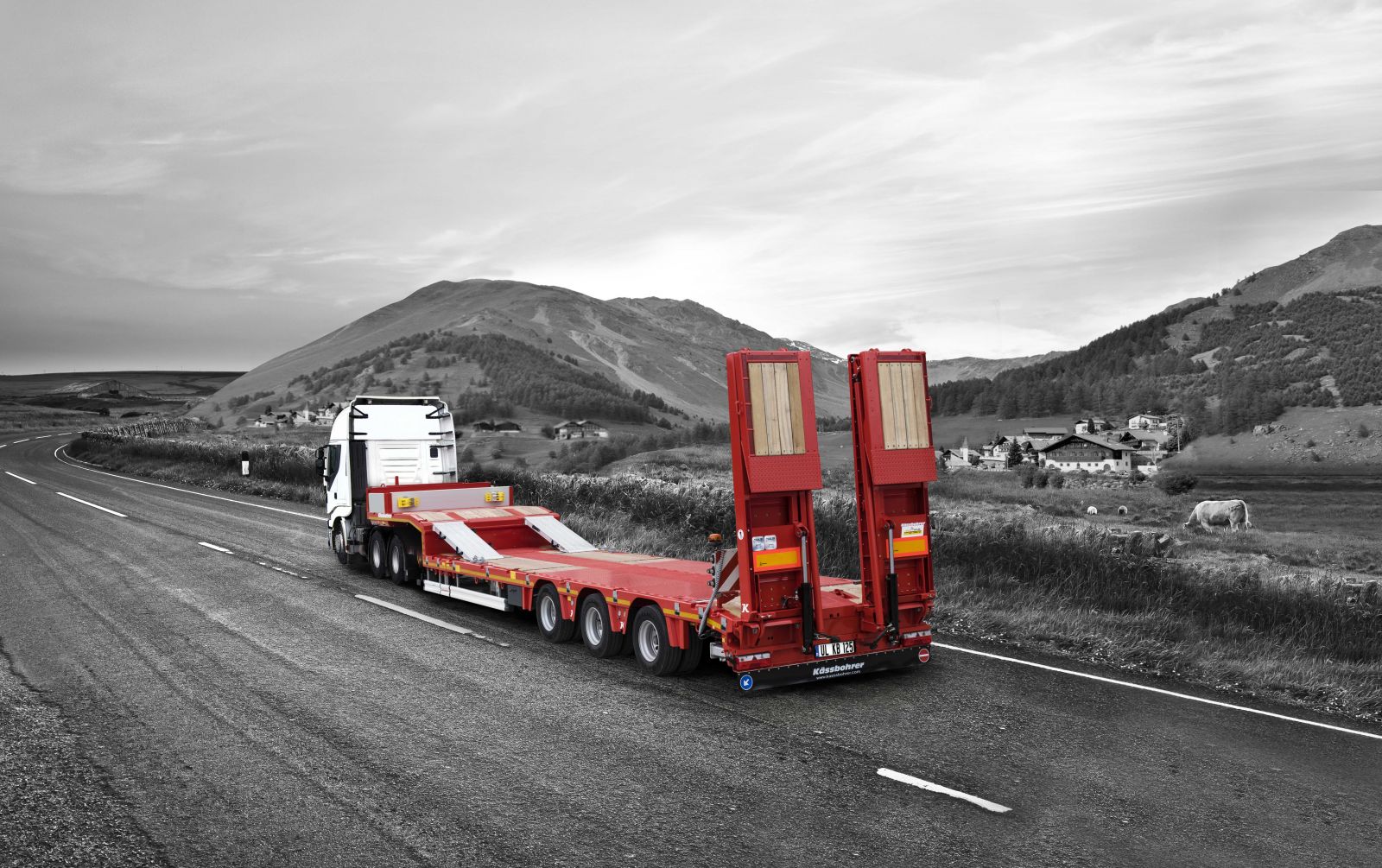 Kässbohrer K.SLH 3 offers maximum maneuverability even on the narrowest curves in rural areas through 3 hydraulic steering axles up to 42 degrees.
Additionally, K.SLH 3 is equipped with hydraulically-steered, remotely controllable and auto-aligned axles; each with up to 12 ton technical capacity.
Efficient Lubrication System for Low-Maintenance Cost is offered by Kässbohrer
The automatic central lubrication system of K.SLH 3 is designed in the best way to minimize the maintenance cost during long-term utilization. A high number of lubrication points make sure that the trailer is always in the best condition and ready to use.
Diversified Load Safety Options are offered by Kässbohrer
With its diversified load safety options, K.SLH 3 provides flexible and safe transportation for heavy and ballast loads with its extendable up to 6.200 mm, strong and flat chassis with a very low platform height of 875 mm.
In addition, diversified load fixing options are offered with side and vertical pillar pockets.
Secure and Flexible Transportation is provided by Kässbohrer
9 x 2 units of 13,4 ton and 5 x 2 units of 8 ton capacity lashing rings make sure that loads can be positioned and transported safely to the destination.
More Payload is offered by Kässbohrer
Despite the robust chassis and the usage of S700MC steel, K.SLH 3 is offered with robust and light chassis design and lower tare weight amount of 12.000 kg providing the higher payload. The usage of S700MC steel with higher yield strength allows light-weight solutions which directly leads to financial savings, fewer gas emissions, and less fuel consumption.
Low Loading Platform Height is offered by Kässbohrer
The loading platform height of K.SLH 3 is 875 mm which is lower than the market standard. With this feature, Kässbohrer offers 3.125 mm height is reserved for the customers to stay within the total allowed convoy height.
Easy Loading and Unloading Operations from Kässbohrer
K.SLH 3 is offered with the rear tail angle and various types of rear loading ramps for easy loading and unloading operations
Best Anti-Corrosion Protection is offered by Kässbohrer
Kässbohrer provides the best corrosion resistance through metallization that provides up to 20 years of protection.
Optimal Container Transportation Solutions from Kässbohrer
K.SLH 3 provides optimal solutions for carrying 20 ft, 2 x 20 ft. and 40 ft. Containers
Dimensional Flexibility is offered by Kässbohrer
K.SLH 3 is equipped with extendable chassis with a total length of 19.450 mm in a fully-extended position and offers lateral extensions of up to 2 x 300 mm to provide dimensional flexibility.
Technical Details of Hydraulic Steering Low-Bed, K.SLH 3
5th Wheel Height: 1.250 mm
Wheel Base: 8.800 mm
External Length: 13.250 mm
Platform Length: 9.300 mm
Platform Extension: 6.200 mm
Gooseneck Length: 3.900 mm
Platform Height: 875 mm
Total Width: 2.550 mm
Tare Weight: 12.000 kg±3% (for 18/30 version)
King-Pin Capacity: 18.000 kg
Technical Axle Load: 30.000 kg
Gross Vehicle Weight (60 km/h): 48.000 kg