Curtainsider Delivery To A2b-Online B.V.
Kässbohrer Reinforces Its Long-Term Partner A2B-online's Fleet
28 September 2018
Offering the widest product range in Europe through the motto "Enginuity", Kässbohrer accommodates versatile customer needs around the globe with its products and services. As a result of this approach, Europe's leading logistics companies choose Kässbohrer as their business partners. A2B-online, Kässbohrer partner since 2013, received 50 Ferry Curtainsider K.SCX X providing efficiency coupled with robustness.
A2B-online is a transport company specializing in full load, part load and pallet consignments to and from the United Kingdom, Benelux, and Germany and enables transport between the United Kingdom and Benelux/Germany. A2B-online is also specialized in freight management solutions, resulting in optimum customer satisfaction and cost control.
During the delivery ceremony, Jaco van Eijk, Fleet Manager of A2B-online, Edward Spaans, Business Unit Manager trailers at A2B-online, Bart van 't Hof, Group Sales Director of A2B-online, and Mehmet Önen, Key Account Manager of Kässbohrer, spoke about their long-term partnership.
"As A2B-online, we are making transportation to the UK through unaccompanied ferry traffic. As the result of the perfect performance of our 46 Kässbohrer vehicles that were already in our fleet for unaccompanied short sea traffic, we decided to add more 50 Kässbohrer vehicles to our fleet. We constantly assess our operations and our vehicles. As the result of our assessment, we can surely say that Kässbohrer vehicles are robust and high-quality and present continuous vehicle performance." said Jaco van Eijk.
"We believe that coming months will expose opportunities that we will explore together with our container division thanks to advanced features of Kässbohrer vehicles." claims Edward Spaans.
"The joined modalities offer a resilient solution to committed customers via Kässbohrer Ferry Curtainsiders, allows for a flexible approach and changing conditions. Thus, we can easily meet versatile customer needs." said Bart van't Hof.
Mehmet Önen stated: "As Kässbohrer we always provide high-quality, state-of-the-art vehicles with our engineering power, offer attuned customer services to our customers in 55 countries and we have the complete product range for intermodal transportation.
As the result of A2B-online's trust in Kässbohrer, we have a long-term partnership for 5 years and lastly delivered 50 Ferry Curtainsider K.SCX X that is equipped with Valx drum brake axles. For our business partners such as A2B-online, we strive to excel their expectations with immediate response, and we are ready to serve them 24/7. We not only provide our customers the best product and services but also design the vehicle branding according to their requests. As a result that approach, we delivered vehicles to A2B-online in specially requested all-black edition. I'm sure that we will continue to grow together."
Features of Kässbohrer's Curtainsider, K.SCX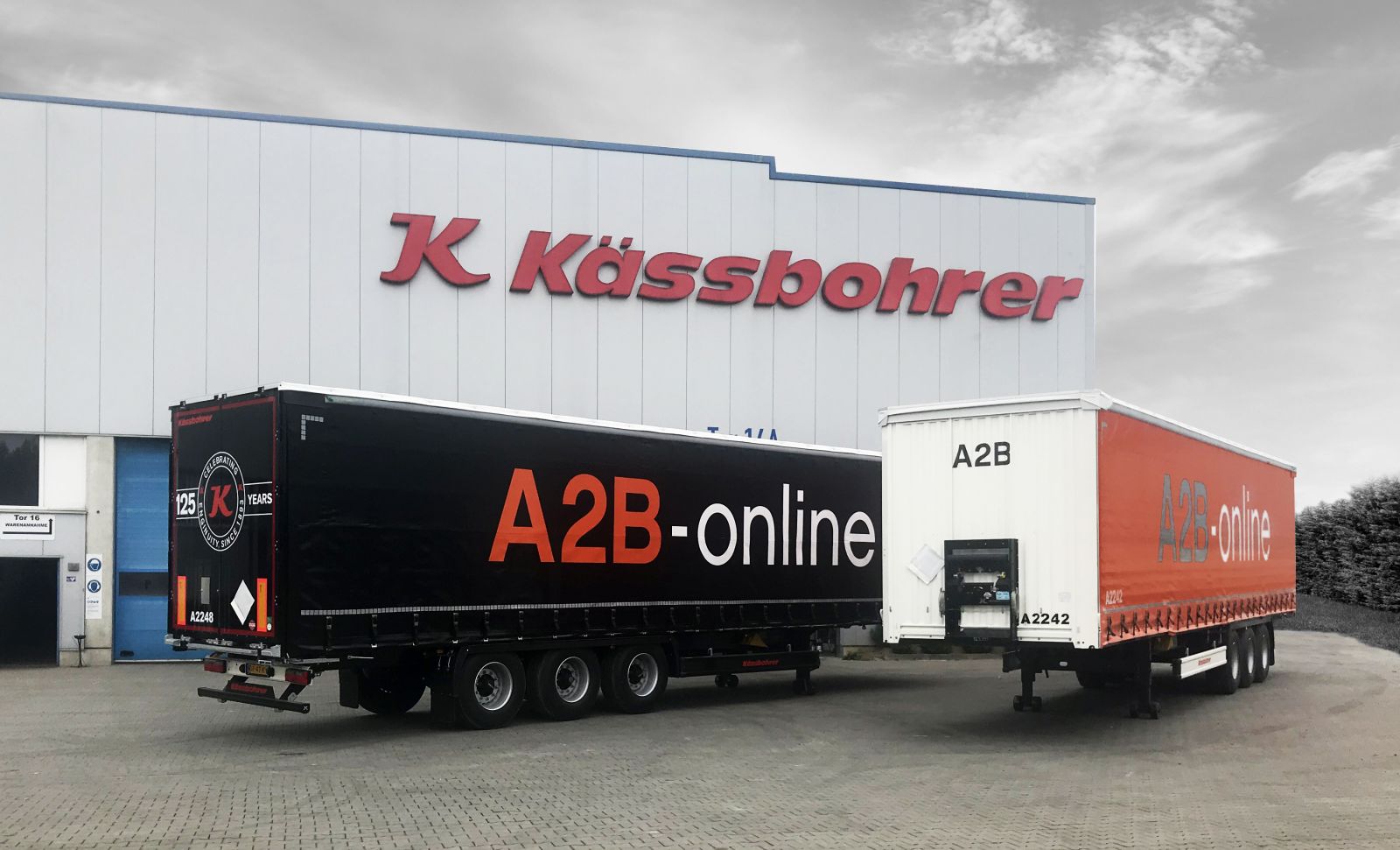 Its acclaimed robust chassis is suitable for every road condition and every kind of cargo.
Coupled perfectly with any 4 x 2 and 6 x 2 tractor, K.SCX X enhances the performance of your fleet.
Up to 15 ton of King Pin Capacity.
Fifth Wheel Height of the vehicle is 1,150 mm.
The safety and loading features are developed to incorporate the latest technology into your operations.
Equipped with K-Fix Load Security System, K.SCX X provides 236 different strapping points, each with 2.5 ton capacity on a special side rave design.
Intermodal configurations are available for efficient and eco-conscious fleet management.
Intermodal options include train loading brackets suitable for P400 classified e-f-g-i wagon types.
Side curtain with integrated stainless steel vertical strips according to load securing certification in compliance with Standard EN 12642 Code XL – VDI 2700 including Beverage Transport Certification without side rows/planks on trailer.