Delicate but Strong Flower Carrier from Kässbohrer
01 August 2019
Adhering to the motto "Enginuity", Kässbohrer brings a new impulse to cold-chain transportation with its brand-new Flower Carrier, K.SRI F.
Kässbohrer's K.SRI F is equipped with cutting-edge technology and offers the best features for flower transportation.
K.SRI F is offered with the inner height of 2.700 mm, an internal width of 2.500 mm, integrated load security rail, protected rear door and 1.100 mm fifth wheel height with 385/65 22.5 tires as a standard offering the maximum volume for the transportation of delicate goods.
K.SRI F's chassis, made of high strength steel is KTL coated for 10 years of no rust perforation guarantee assuring performance for the life time of the vehicle.

Kässbohrer Flower Carrier is compliant with EN 12642 Code XL to provide safer transportation of the delicate goods, FRC for perishable good transportation and Pharma Certificate for pharmaceutical material transportation.
Advanced Security Features are offered by Kässbohrer
To assure the continuity of the cold chain operations Flower Carrier features the insulated door as well as buffers all around maximum isolation.
Flower Carrier is provided with an insulated robust rear door that is equipped with full rear rubber buffer across rear width and hinge protection rubber buffers fitted vertically full height of the rear frame increasing the robustness of the vehicle, prevents damages to the box during operations and extends the life time of the vehicle.
Kässbohrer's high-tech Flower Carrier's steel rear frame mounted 85 mm thickness insulated rear door is protected with 250 mm aluminum kick strip fitted at the bases to prevent damages during operations enabling cold chain operation sustainability.
As standard, reliably secured aluminum hinges are customs-compliant to prevent cargo theft. K.SRI F can be equipped with stainless steel housing door locks consisting of two parts, one part on the left-hand door and one part on the right-hand door, to make it resistant to attempted burglaries as an option.
Additionally, K.SRI F is equipped with integrated load security rails to provide optimum load security during your operations.
Operational Efficiency is offered by Kässbohrer
Flower Carrier K.SRI F is equipped with special features that enables reduction of its Total Cost of Ownership.

K.SRI F's GRP panel technology offers long term cost savings through anti-corrosion feature and fuel savings through better insulation
Additionally, K.SRI F provides rapid maintenance through easy change of only the damaged zone of the GRP side panel.
Furthermore, with composite profiles reinforced side panels of K.SRI F make a difference with its robustness even with its 45 mm thickness.
Robustness is offered by Kässbohrer
Through the light and robust design of 45 mm GRP panels, K.SRI F enables higher payload capacity by maximizing the inner volume.
Furthermore, Flower Carrier is provided with aluminum floor with 7200 kg forklift load capacity as standard, assuring maximum safety during operations.
Precise Temperature Control is offered by Kässbohrer
In order to enable multi-temperature transportation for different refrigerated products, K.SRI F is equipped with a partition wall as an option. Additionally, K. SRI F is offered with the double-deck option that has 10,5 ton capacity on the second floor to enable maximum operational efficiency up to 66 euro pallets.
Technical Details of Kässbohrer Flower Carrier, K.SRI F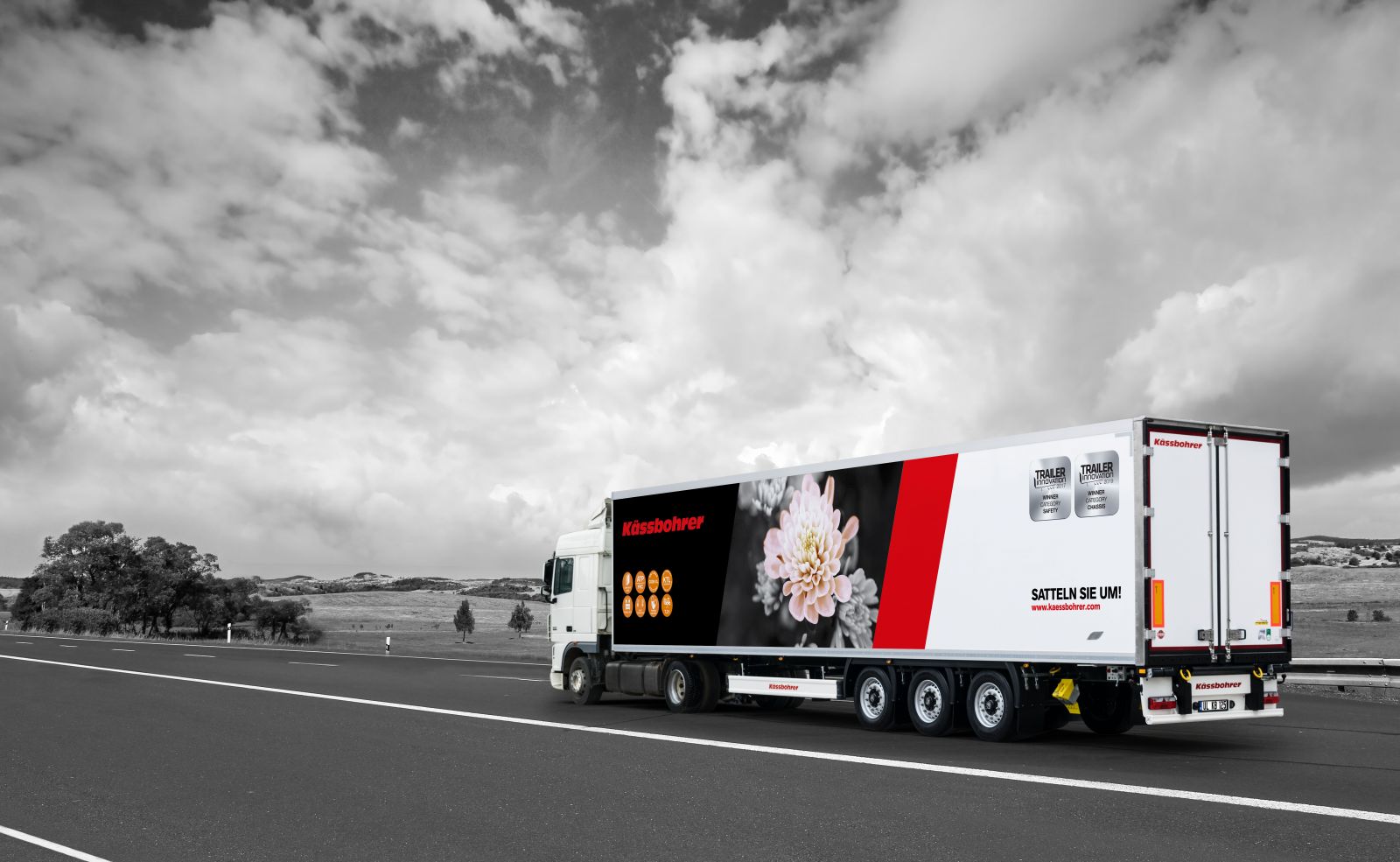 Coupling Height: 1.100 mm
Inner Height: 2.700 mm
Overall Height: 4.020 mm
Internal Width: 2.500 mm
Total Width: 2.600 mm
Total Length: 13.600 mm
Internal Length: 13.385 mm
Tare Weight: 7.800 kg