Discover versatility Kässbohrer investing in future of trailer engineering
Standing out with its unmatched product range in the European semi-trailer industry, German manufacturer Kässbohrer is presenting its transport solutions, innovative technologies and new services at the IAA Commercial Vehicles Show 2016.
29 September 2016
In addition to five semi-trailers at Kässbohrer booths, each presenting the company's innovative spirit in different segments of the semi-trailer engineering, including the Trailer Innovation 2017 award-winning Safety Bitumen Tanker, Kässbohrer is also exhibiting the Digital Trailer Control system integrated on its tipping silo at New Mobility World LIVE.
By showcasing such a large variety of solutions for diverse transport segments, Kässbohrer underscores its versatility as the fastest growing semi-trailer manufacturer in Europe, coined in its motto for the IAA this year: Discover Versatility.
"Our rapid market expansion in the semi-trailer industry is accompanied with the implementation of innovative approaches and technologies in the semi-trailer engineering and the diversification of services for the transport industry," said Kässbohrer's Executive Board Member for Business Development İffet Türken, speaking at the company's press conference on September 22, during the 66th IAA Commercial Vehicle Show in Hannover, Germany.
"We clearly stand out with our versatility in the industry, with strong technology we offer, our global solutions with a local focus, with our wide product range and our broad services. We continue to invest heavily in order to maintain the perfect balance of engineering and ingenuity.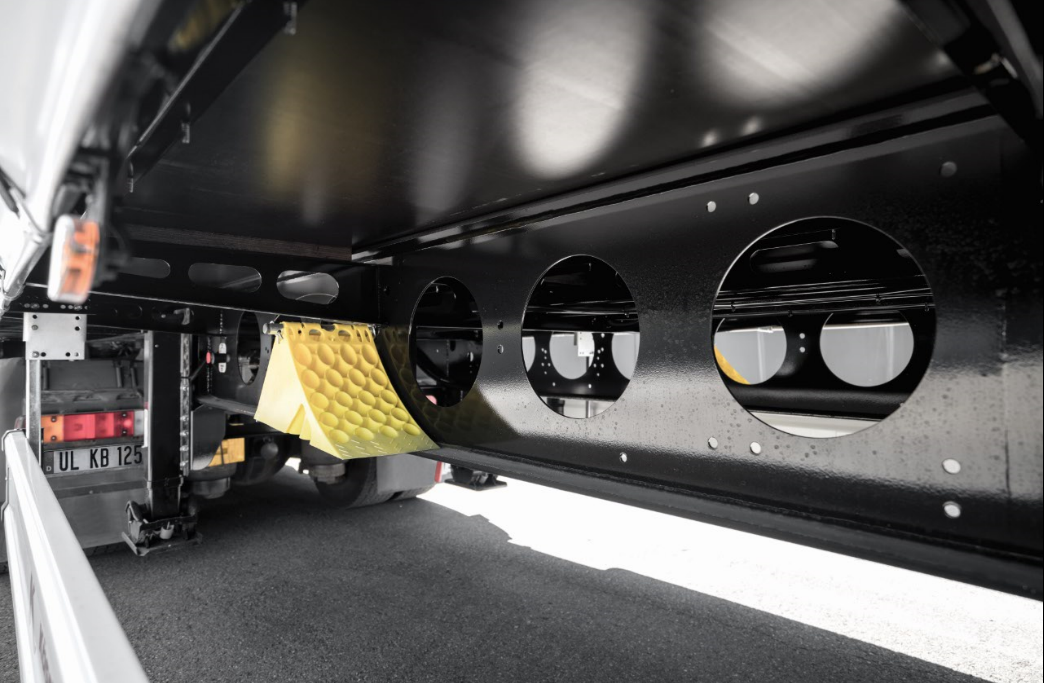 Kässbohrer more than doubles sales in Jan-Jul 2016
In the first seven months of the current year, Kässbohrer more than doubled its sales in its key markets in Europe, including Russia, on year-on-year basis, compared to an overall growth of 10.6% in corresponding markets. The company continued to be Europe's fastest growing semi-trailer manufacturer.
The company's impressive market growth is a combined result of its very strong sales increase in its traditional markets, including Germany and Poland, and its growth in relatively young markets, including the UK, France, Italy, Spain and Portugal.
Kässbohrer's market share gain in Germany is due to the powerful rise it recorded in the curtainsider segment, while the company is now among the top five semi-trailer manufacturers in Poland, with the growth recorded in low-bed, tank, silo and curtainsider segments. We continue to be the market leader in the fuel tanker segment in Poland.
Ramping Up Activities in UK and France
"While we clinch our position in Germany and neighboring markets in Central Europe, we have been recently shifting up our operations in the UK and the Southern Europe," said Ms. Türken. "
"We are operating in the British semi-trailer market through our key customers since 2012. Since last year, we are ramping up our activities in the UK. Back in April this year, we participated in the CV Show in Birmingham and presented examples from our wide product range, including our heavy duty platform specifically designed for the specific needs of the UK transport industry."
In July this year, Kässbohrer has set up a subsidiary company in the country, namely Kässbohrer UK Ltd. The move came following company's expansion in the country in terms of sales and after-sales network.
"In France, on the other hand, we are strengthening our presence in the country. Since Solutans 2015 in November last year, where we came together with our French business partners, we have been witnessing an impressive growth in our sales, which we conduct through our dealer, while we expand our after-sales services in line with this growth," Ms. Türken added.

Kässbohrer Commissions Second Production Facility in Germany
In the wake of its leap forward in the semi-trailer manufacturing and services, Kässbohrer had announced its decision, in April this year during Bauma 2016, to return back its hometown, Ulm, 23 years after the company had ceased its operations in this industrial city in Germany's south-western state Baden-Württemberg and 123 years after Karl Kässbohrer founded the company.
In August, Kässbohrer has commissioned its new facility in Ulm as projected, with a meeting gathering all its dealers across Europe. The new facility is currently operating as a sales office, fully offering the company's wide product range.
By the end of this year, Kässbohrer plans to start production in Ulm. In 2017, the production rate is expected to reach 2,000 units per year. Along with production, the facility will also provide Kässbohrer's expertise in the maintenance and servicing for every semi-trailer type in its portfolio.
New Products From Conception to Result-Driven Technologies
Since the beginning of 2016, Kässbohrer has launched 18 new models of semi-trailers in 4 product groups, along with 350 new options, in reply to changing trends in the industry and to the specific needs of its customers.

Award-winning pioneering safety standards in bitumen transport: K.STS.F 32
With the new Kässbohrer Safety Bitumen Tanker, K.STS.F 32, co-developed through an exemplary industry collaboration with Hoyer Bitumen-Logistik GmbH, the German bitumen transport subsidiary of Hoyer Group, Kässbohrer won the Trailer Innovation 2017 award. The awards promote outstanding ideas and new products from the trailer and body industry.
The electronic discharge automation system installed on K.STS.F 32, along with additional security features not only protects the driver, avoiding possible permanent injury, it increases security of the operation site and the equipment as well. The result is safer working conditions, lower risks in order to increase the total value of ownership and lower operational costs.
Kässbohrer's new concept improves European best practices for occupational health and safety, as well as the discharge operation safety, and efficiency in general.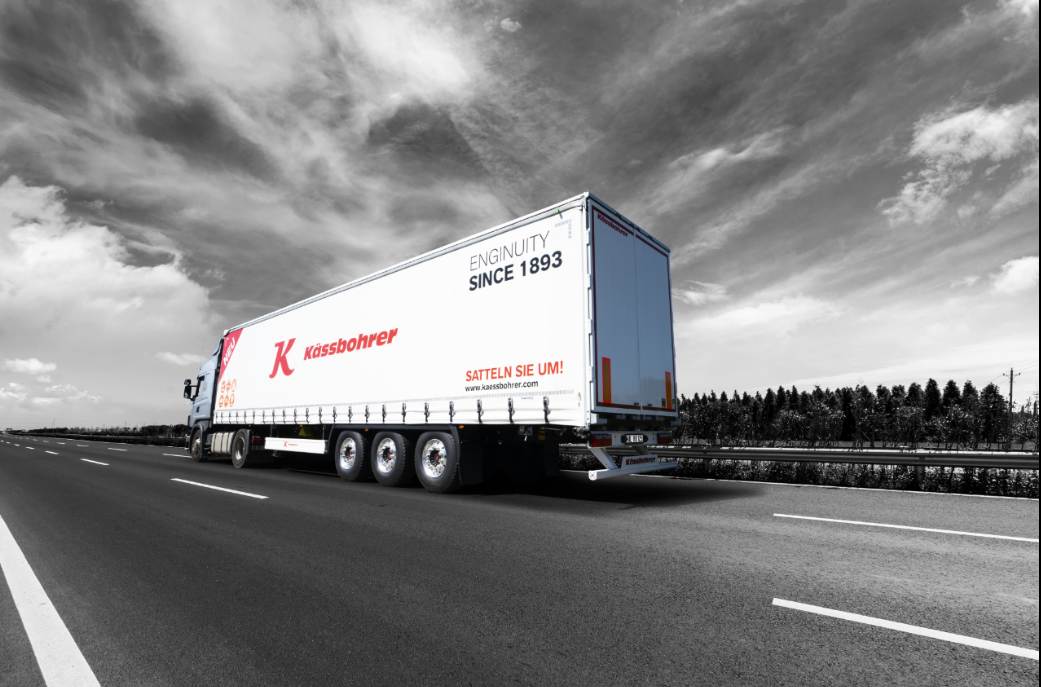 Kässbohrer Launches New Curtainsiders
Kässbohrer has further enlarged its product line, with the addition of a new light maxima curtainsider, K.SCL X+.
Focused on reducing the total cost of ownership for fleet owners, Kässbohrer engineers managed to achieve a further weight reduction. K.SCL X+ is designed to carry more than one ton more payload compared to a standard maxima curtainsider. With a tare weight of only 5,600 kg, the eco-conscious K.SCL X+ reduces the CO2 emission, while maximizing the fuel efficiency and tire life.
In addition, Kässbohrer renewed its coil transporter: Kässbohrer Coil Carrier Maxima Curtainsider, K.SCC X+. It is equipped with the longest coil-well in its class, 9,060 mm, for the reliable transportation of every coil load type. K.SCC X+ is designed to provide the highest efficiency and an eco-conscious fleet management. Its intermodal transport configurations make it suitable for all A1 wagon types, and K.SCC X+ offers more than 500 different strapping options for flexible and reliable load securing.

Stronger Resistance to Abrasion in Heavy Haulage Segment
Committed to provide lasting added value with the semi-trailers it delivers, Kässbohrer has started to apply metallization on the chassis of its low-beds and low-loaders.
Metallization serves to better protect these large heavy duty equipment carrying tons of loads, which are relentlessly challenged under harsh loading and unloading operations against all effects of abrasion and corrosion for over 20 years.
During the metallization process, the chassis is sprayed with a metal alloy, consisting of 85% zinc (Zn) and 15% aluminium (Al), which creates a protective layer on the metal surface.
Metalization protects the chassis against shocks, perforation and scratches which would cause corrosion, increasing the durability of Kässbohrer semi-trailers, which in turn result in longer product life and increased value.

Investing in Future of Semi-trailer Manufacturing
For the period between Q4 2015-Q4 2016, Kässbohrer has made a total investment of over 9 million € in new production technologies in its facility in Adapazari. The investments are mainly focused on increasing the production efficiency according to the lean philosophy.
The investments already put into operation include the metallization process, the capacity increase of Kässbohrer Welding Academy and of the KTL facility, the modernization of the X-Ray cabin used in the inspection of tank quality, the paint shop conveyor line and the robotic welding automation system for platform upper-structures.
By the end of the current year, Kässbohrer is planning to adapt the third robotic welding line in tank bodies of tankers.
"We are investing in the future of semi-trailer manufacturing," said İffet Türken. "Our investments are within the scope of lean production principles in order to maximize the added value we deliver."

About Kässbohrer
In 1893, when Karl Kässbohrer founded his Wagenfabrik in Ulm, he redefined what trailer engineering could achieve. Today, thanks to over 120 years of staying true to his ethos, Kässbohrer products are used in more than 55 countries, have innovated in more ways and have a broader product line than Mr. Kässbohrer would ever have thought possible.
In the European semi-trailer industry, Kässbohrer stands out with the unparalleled width of its product range, including curtainsiders, tanks and silos, low-beds and low-loaders, platforms and container chassis.
Kässbohrer's success is built on the spirit of excellence that drives Kässbohrer engineers to transcend the ordinary to achieve a level of efficiency, simplicity and reliability seldom seen. The result is a range of semi-trailers that are economical, durable and extremely easy to handle. Our promise to you can be summarized in one word: 'Enginuity '. We combine modern "engineering" with "ingenuity" – the inventive spirit.