Kässbohrer and Move Intermodal pave the way for more efficient coil transportation
14 January 2020
Kässbohrer and Move Intermodal concentrated on creating more efficient coil transportation which resulted in the only light coil swap body with 45ft length in K. SWAU CC. Designed and engineered by Kässbohrer to meet Move Intermodal's operational needs and sustainability goals of the industry, K. SWAU CC paves the way for more efficient coil transportation.
Move Intermodal is a leading provider of intermodal logistics solutions for more than 30 years through its network and partnership approach and recognized for excellent services and cost-effective solutions it offers.
Luc Driessen, CEO of Move Intermodal, Kees Winters, Operations Director South at Move Intermodal and Mehmet Önen, Head of Key Account Management at Kässbohrer attended the delivery ceremony.
Mr. Driessen stated: "As Move Intermodal, we focus on intermodal transportation that lowers environmental impact and energy consumption.
Regularly, heavy coils were loaded onto the train with the help of 25 ft Swap Body vehicles. However, those Swap Body vehicles caused losses due to inadequate inner height and loading space in length during return freight.
As Move Intermodal, we required a more efficient and robust way of transporting heavy coils and we were sure that Kässbohrer was the right partner to develop innovative solutions. We have concentrated on the most efficient yet robust solutions for a long time and prototyping periods and in the end the only light coil swap body with 45ft. length K. SWAU CC was created. We added 100 Kässbohrer Coil Swap Body vehicles to our fleet.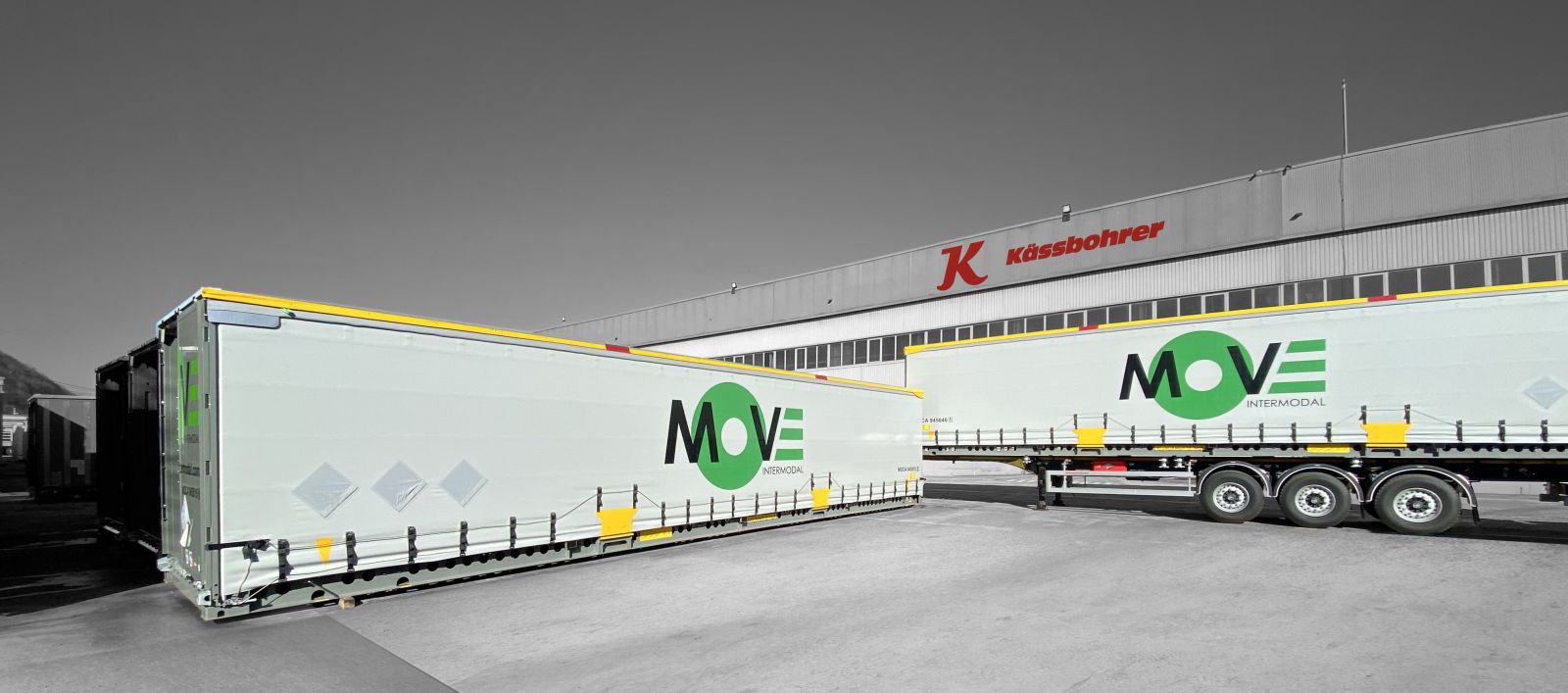 With the help of the walls inside the coil well, it is possible to carry heavy coils without the usage of stanchions that offer operational easiness and saves time.
We are glad to develop a brand-new, innovative vehicle that provides advantages during coil transportation together with our reliable partner Kässbohrer."
"K.SWAU CC is making a difference with its robustness despite its tare weight equal to 4.500 kg that contributes to operational efficiency" added Mr. Winters.
Mr. Önen stated: "We are committed to customer satisfaction, developing new products with them to meet their needs while collectively advancing trailer technology. As Europe's pioneer in intermodal transport, Move Intermodal's expertise has given us the support to dedicate our know-how and engineering expertise.
For intermodal transportation, we have been providing the complete product range that includes the lightest Swap Body on the market K.SWAU CL, the recently launched biggest volume silo container, the award winning multi-functional container chassis and now, we are proud to respond market's demand for more efficient coil transportation with our K.SWAU CC vehicle.
Offered with 3 units of 2.150 mm coil well and from 900 to 2.000 mm coil diameter, Kässbohrer provides reliable coil transportation thanks to its robust chassis. As we are the only trailer manufacturer having both KTL and Metallization facilities, K.SWAU CC's chassis is unique – coated with KTL, as well as with partial metallization on loading points and full metallization on crane pockets.
Addition to its innovative features, K.SWAU CC makes a difference with its advanced security features as well. Equipped with 6 x 2 units of coil pillar pockets and HD lashing rings, K.SWAU CC offers increased security during versatile operations. In compliance with Standard EN 12642 Code XL - VDI 2700, Kässbohrer light coil Swap Body is offered within total 98 different multi-point lashing points, each with 2,5 ton capacity, and detachable 16 x 2 lashing rings on side rave of the chassis.
Moreover, K.SWAU CC is the only light coil Swap Body offered with 7,2 ton forklift axle load capacity.
Upper structure designed according to C45 transportation code with modular aluminum front wall and swing doors, K.SWAU CC has 34 euro pallet capacity.
As Kässbohrer, we are glad to design and develop an innovative vehicle with our reputable business partner Move Intermodal that is a new approach for coil transportation.
Kässbohrer After Sales Services in Europe
Kässbohrer's broad after sales services are developed to take care of its customers, and wide after sales and spare parts services in Europe compliments their operations.
With K-Advance Care Service Packages tailored to each customers' operational needs as well as 24/7 Kässbohrer Hotline available in 27 countries and 23 languages, Kässbohrer's after sales services are attuned to meet the needs.
About Move Intermodal
Move Intermodal from Genk, Belgium has been an important performer in intermodal transport for the last 30 years. It achieves a turnover of 89 million euro yearly and is active in the Benelux, Italy, Spain, Scandinavia, Germany, Slovakia, UK and Turkey. Move Intermodal aspires to direct endurable intermodal transport solutions in Europe for her clients. With over 275 coworkers, 60 train connections weekly, 2,500 intermodal loading units and a fleet of 150 trucks, over 75,000 transports are executed yearly. For further information: www.move-intermodal.com.