Kässbohrer Delivers more Than 250 Semi-trailers to ICTS Group Belgium
Europe's leading trailer manufacturer Kässbohrer delivered more than 150 semi-trailers to ICTS Group, including Kässbohrer K.SCS M, intermodal semi-trailers of choice.
09 August 2017
Kässbohrer will deliver 100 more semi-trailers in the upcoming months, growing the number of Kässbohrer vehicles in the fleet to more than 250. While most of the deliveries are made at Kässbohrer Goch and Ulm Plant, the last delivery has taken place in Kässbohrer's Adapazari Plant with the participation of Johan De Coster, Chairman of ICTS Group and Jan Coene, President of ICTS Group.
During the delivery ceremony, Mr. Coster and Mr. Coene had a chance to participate in Kässbohrer factory tour and to observe the latest technologies incorporated into Kässbohrer production processes. Furthermore, they visited Kässbohrer Welding Academy, Cataphoresis Facility and Prototype Testing Facility with advanced semi-trailer physical testing capabilities.
At the end of the factory tour, Mr. Coster and Mr. Coene highlighted their appreciation with Kässbohrer's production capabilities and technological infrastructure. Both parties state that Kässbohrer and ICTS Group will grow their partnership in the future.
The ICTS Group is a trailer rental, maintenance and field services company. ICTS provides services in the major transport routes in Europe, mainly in England, Netherlands, Belgium, Poland and Russia. ICTS's fleet will consist of 1800 vehicles with more than 250 Kässbohrer semi-trailers.
Kässbohrer intermodal curtainsiders in ICTS fleet are suitable for both huckepack and ferry transportation with reinforced king-pin area and unique suspension design to meet the challenges of complex intermodal loading and unloading operations.
In addition to Kässbohrer's intermodal curtainsider, ICTS Group preferred other models of Kässbohrer semi-trailers in its fleet, such as Kässbohrer general cargo curtainsider, K.SCX X, and light container chassis, K.SHG L.
KÄSSBOHRER INTERMODAL CURTAINSIDER FOR OPERATIONAL EXCELLENCE
Kässbohrer R&D team engineered curtainsider series; intermodal curtainsider K.SCS M and general cargo curtainsider K.SCX X for complex intermodal loading and unloading operations.
Extremely robust Kässbohrer intermodal curtainsider is engineered with a reinforced king-pin area and sliding plate section for demanding ferry loading conditions. Furthermore, with the special axle and suspension design, Kässbohrer provides the best protection for the axles during train loading and unloading operations.
With train loading brackets, suitable for P400 classified e - f - g - i wagon types, Kässbohrer intermodal curtainsider is offered with Load Security Certificate EN 12642 Code XL - VDI 2700 and approved for transport by express freight train at speeds up to 140 km/h.
Kässbohrer's patented multi-point load securing system, K-Fix, is offered as standard in every Kässbohrer curtainsider to secure various forms of cargo quickly, and with the utmost reliability. K-Fix comprises 236 lashing points, integrated into the side rave, each with a capacity of 2.5 tonnes.

KÄSSBOHRER LIGHT CONTAINER CHASSIS: K.SHG L
Kässbohrer light container chassis with fixed gooseneck is offered with a tare weight below 3,850 kg and is engineered to handle both containers and swap bodies, ranging from C45 to C63.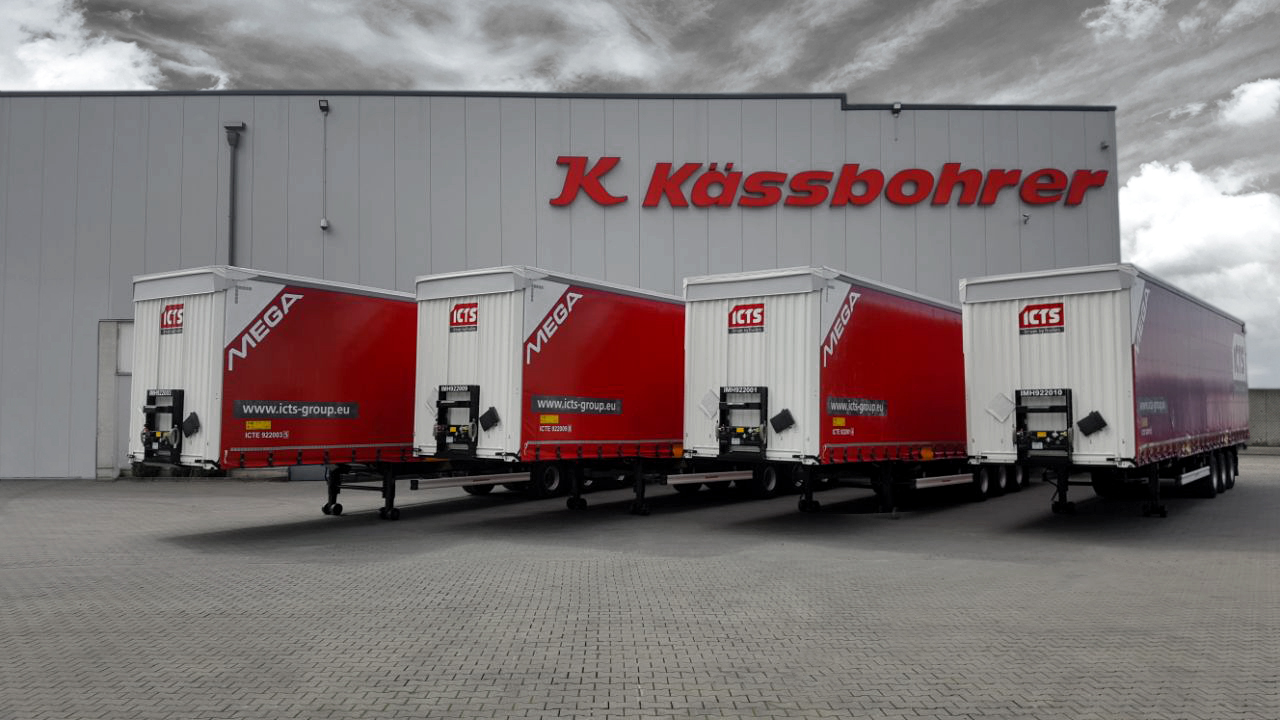 Equipped with detach-and-plug technology to carry both 40 ft. and 45 ft. containers, K.SHG L eliminates complex front container locks positioning process. While allowing higher payload, K.SHG L's design also allows the safe and easy loading of containers with only 4 locks.
ABOUT KÄSSBOHRER
In 1893, when Karl Kässbohrer founded his Wagenfabrik in Ulm, he redefined what trailer engineering could achieve. Today, thanks to over 120 years of staying true to his ethos, Kässbohrer products are used in more than 55 countries, have innovated in more ways and have a broader product line than Mr. Kässbohrer would ever have thought possible.
In the European semi-trailer industry, Kässbohrer stands out with its incomparably wide product range, including curtainsiders, tanks and silos, low-beds and low-loaders, platforms, tipper and container chassis.
Kässbohrer's success is built on the spirit of excellence that drives Kässbohrer engineers to transcend the ordinary to achieve a level of efficiency, simplicity and reliability seldom seen. The result is a range of semi-trailers that are economical, durable and extremely easy to handle. Our promise to you can be summarized in one word: 'Enginuity '. We combine modern "engineering" with "ingenuity" – the inventive spirit.
Currently, Kässbohrer vehicles are produced at 4 different locations. Two of the locations are in Germany, respectively Goch and Ulm Plant. Vehicles for the Russian and Central Asian market are produced in Tula Oblast, while Kässbohrer's biggest production facility is located in Adapazari – an exceptional example of a state-of-the-art semi-trailer factory in Europe.