Kässbohrer is now the choice of DSV Road Holding
11 December 2019
Kässbohrer proudly continues to support reputable logistics companies with its highest-quality vehicles. Recently, Kässbohrer established a new partnership with world-leading transport and logistics supplier, DSV Road Holding and strengthened their fleet with Mega Curtainsider K.SCS M vehicles.
DSV is established in 1976 in Denmark, and today provides and manages supply chain solutions with 60.000 employees in more than 90 countries.
Søren Lund, Senior Director of DSV Equipment, Flemming Steiness, Director of DSV Equipment, Ronni Rosendal, Equipment Department Manager of DSV Road Holding, and Mehmet Önen, Head of Key Account Management at Kässbohrer, attended the delivery ceremony.
Mr. Lund stated: "At DSV, we are always open for new collaborations and partners that deliver quality products, work efficiently and bring value to our customers.
Consequently, we have decided to bolster our fleet with Kässbohrer Mega Curtainsider K.SCS M vehicles that are perfect-fit for intermodal transportation thanks to their KTL coated strong, robust chassis. As K.SCS M is suitable for both e - f - g - i wagon types with P400 classified train loading brackets and ferry transportation we can carry out our versatile operations flawlessly."
Mr. Steiness adds: "Additionally, upon our request Kässbohrer equipped K.SCS M with Ultra-Seal sealant. Ultra-Seal is a preventative tyre sealant that optimizes tyre life and reduces tyre-related incidents due to punctures and blow-outs. We are glad to build a new partnership with Kässbohrer and we will continue to bolster our fleet with Kässbohrer quality."
Mr. Önen said: "As Kässbohrer, we are offering the widest product range that encompasses complete intermodal product range including Trailer Innovation 2019 Award Winner in category "Chassis" Multifunctional Container Chassis K.SHG AVMH, lightest swap body on the market K.SWAU CL and robust curtainsider ranges.
With our vehicles that are perfect examples of Kässbohrer's continuous improvement approach, we will support DSV during environmentally-friendly intermodal transportation and contribute to CO2 decrease.
Addition to other features, our Mega Curtainsider K.SCS M is offered with advanced security features to enhance security during operations and various transportation options to increase operational efficiency. Equipped with pillar pockets at the side rail and in the middle and timber stanctions, K.SCS M provides security during our operations and various transportation options. Moreover, K.SCS M is offered with patented K-Fix Load Security System that has 118 holes per side rave which increases load lashing varieties and is suitable for Code XL Certification.
As Kässbohrer, we value our newly-established partnership with DSV and believe that our partnership will grow thanks to our vehicles that are equipped with cutting-edge technology and our dedicated sales and after-sales team that are enthusiastic to provide the best services to our customers."
Technical Information about Kässbohrer Mega Curtainsider, K. SCS M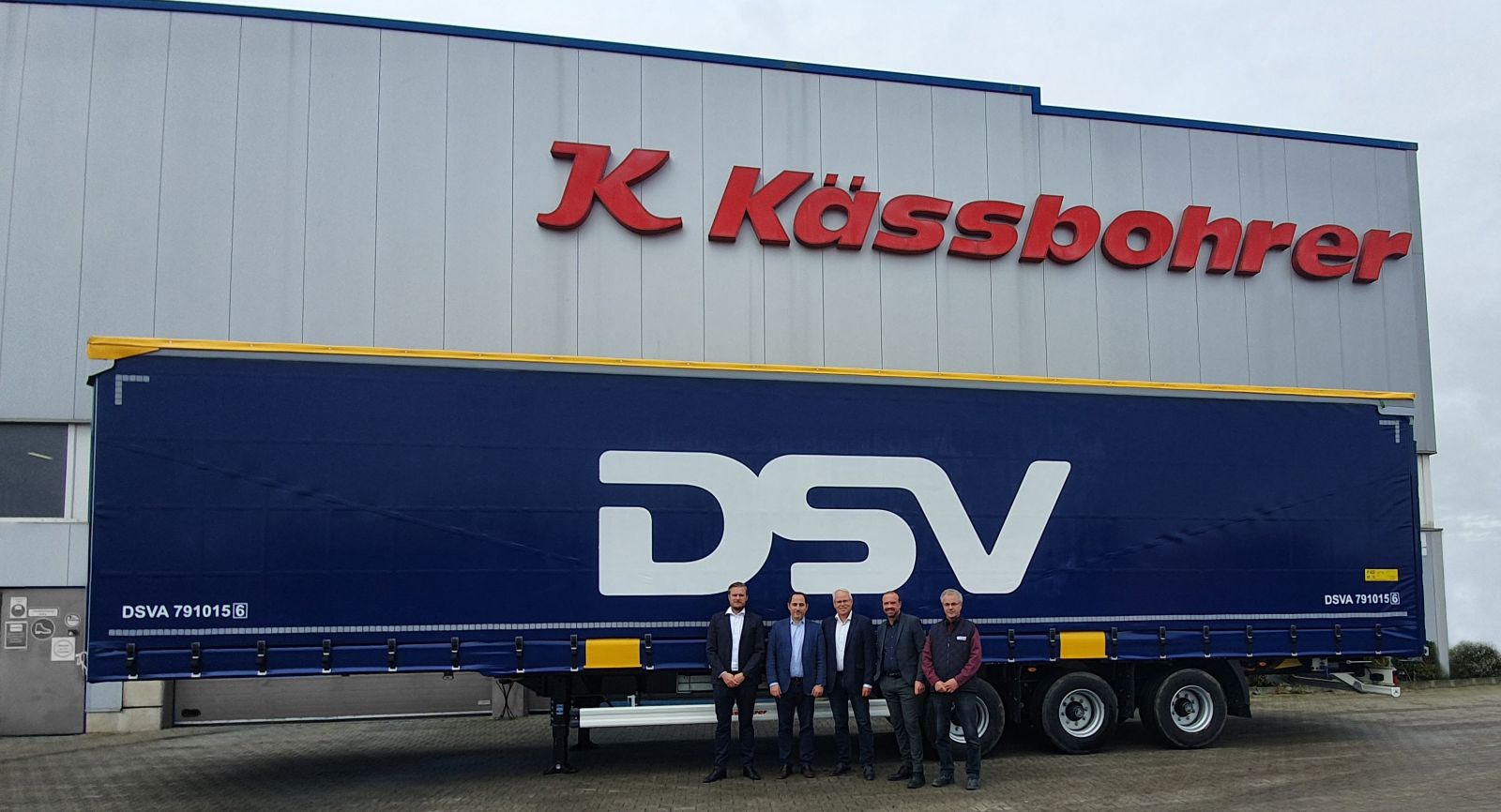 Fifth Wheel Height: 950 mm
Internal Height: 2.950 mm or 3.000 mm
Pallet Capacity: 34 Units
King-Pin Capacity: 12.000 kg
Axle Load: 27.000 kg
Gross Weight: 39.000 kg
External Length: 13.680 mm
Internal Length: 13.610 mm
Total Width: 2.550 mm
Internal Width: 2.480 mm
Wheelbase: 7.700 mm