Kässbohrer Opened its Ulm Plant with the Attendance of Guests from 14 Countries
Kässbohrer Growing in South-Europe: The Grand Opening of the Ulm Facility Took Place on the 5th of July 2017 with A Ceremony
12 July 2017
Çetin Nuhoğlu, president of Kässbohrer, hosted the opening ceremony by the attendance of; The State Secretary of the Ministry of Economics of Baden-Württemberg Katrin Schütz, Ulm Mayor Martin Bendel, Deputy Mayor of Achstetten Paul Bailer and Prof. Dr. Tobias Bernecker from the HS Heilbronn University, VSL Baden-Württemberg (Verband Spedition und Logistik Baden-Württemberg e.V) CEO Andrea Marongiu and VSL Baden-Württemberg President Karlhubert Dischinger.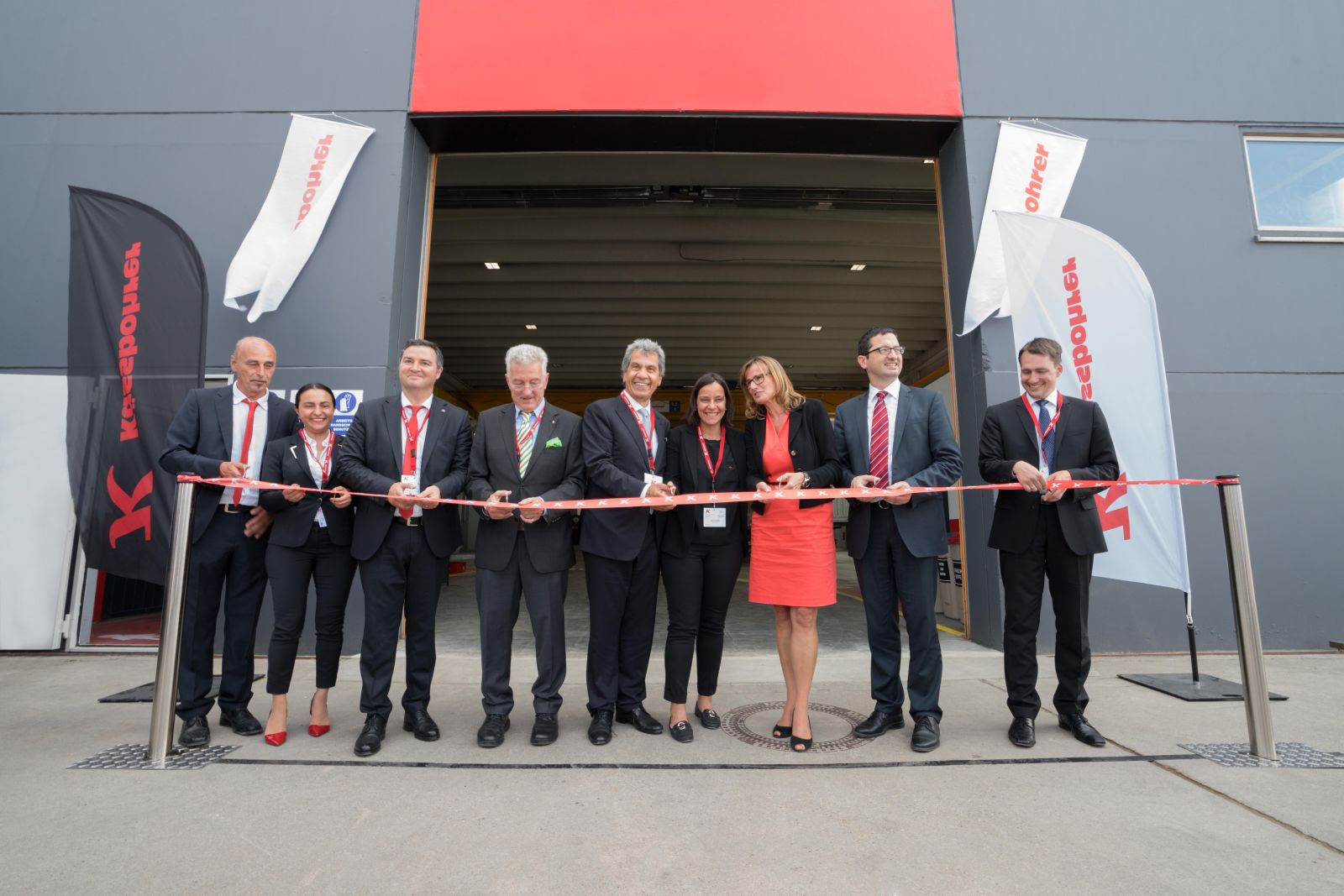 KÄSSBOHRERS GROWING IN SOUTH-EUROPE: THE GRAND OPENING OF THE ULM FACILITY TOOK PLACE ON THE 5TH OF JULY 2017 WITH A CEREMONY
Kässbohrer, Europe's fastest-growing semitrailer brand, has opened its 4th plant in total, 3rd plant in Europe and 2nd plant in Germany on the 5th of July. In 2017, Kässbohrer will continue to be a solution partner for the demands of its customers, especially in Southern Europe with its new facility.
Alper Aydin, Deputy General Manager of Kässbohrer Marketing, Sales and After-Sales has started the opening ceremony. Participants were informed about the history of the Kässbohrer brand, which began producing trailers in Ulm in 1893. Mr. Aydin stated that, "Kässbohrer decided to return to his roots at the beginning of 2016. Kässbohrer, in honor of Karl Kässbohrer's innovative heritage, won the Trailer Innovation Award 2017 in the 'Safety' category in the IAA 2016 with its bitumen tanker in cooperation with the Hoyer Group. Shortly thereafter, at the beginning of this year, it culminated in these achievements with the award of 'the brand with the highest image increase in 2017' at the award ceremony of Verkehrsrundschau, one of the industry's leading magazines. Kässbohrer adds innovations to its business partnerships with universities and different kind of foundations with the aim of taking part in new projects related to automotive, R & D investments and academic future and to produce new solutions for the needs of the logistics sector. We are proud that we are a brand with 124 years of history and that we are now reaching customers in more than 55 countries."
Mr. Alper Aydin highlighted the successes of Kässbohrer in Europe "Regarding the year 2016, the European heavy commercial vehicle market had grown by 12%, but the semitrailer market by 10%. In terms of sales and new orders, Kässbohrer achieved exceptional success with a growth of 72% in the European market and doubled its sales especially in Germany, Poland and France. In Belgium in 2016, it was the most growing brand among the largest manufacturers. In the UK market, Kässbohrer was the only non-English brand which increase its market share in the UK, although there was a 15% decline in the total market. In the first five months of 2017, the European heavy commercial vehicle market grew by 2.9%, while the trailer market reached a rapid growth of 8.8% compared with the same period of the previous year. In parallel with the market growth, Kässbohrer achieved a significant increase in important markets such as Germany, France, the Netherlands and Belgium. "
Kässbohrer is not just a Semitrailer Manufacturer
Mr. Aydın continued his speech by mentioning that Kässbohrer is not just a semitrailer manufacturer and explained it as; "We are not just a semitrailer manufacturer. With our services we always think of our customers and simplify their lives. With the K-Advance Maintenance package, we guarantee an uninterrupted service with 6,000 service points and 16 countries in Europe with advantageous fixed and manageable costs. The K-Advance Care Package provides services 24 hours a day, 365 days a year. The Kässbohrer "Roadside Assistance" service is available in 17 countries and 27 countries to give the driver the technical support to the nearest Kässbohrer service partner, if needed. We also continue to provide financial solutions to our customers through our K-Finance service. "
New Vehicles were Exhibited During the Opening Ceremony
At the opening ceremony, Kässbohrer exhibited in total 18 vehicles of Kässbohrer brand, with three other world premieres such as the Kässbohrer Paper Carrier K.SCP X, Kässbohrer Tank Container Chassis K.SHF T and Kässbohrer Air Cargo K.SCA.
Kässbohrer has the Largest Product Range in Europe
Kässbohrer is the leading semitrailer manufacturer and semitrailer brand with the largest product range in Europe. With its wide product range and innovative products, Kässbohrer exports overall to 55 different countries and from the Goch facility in Germany to 21 countries.
Kässbohrer opened its first production facility in Germany in Goch in 1998. Now with the new facility, another sales, after-sales and service center will be available in Ulm, located in Baden-Württemberg, in the southwest of Germany, with a total surface of 100.000 m2.
Ulm is located on the A8 motorway connecting major cities such as Stuttgart and Munich in the south of Germany. It is also located at the intersection of Germany's longest highway, the A7 motorway, which connects the northern European continent to the south. On the other hand, Ulm is a city that stands out by being the center of the most important transportation networks in Europe.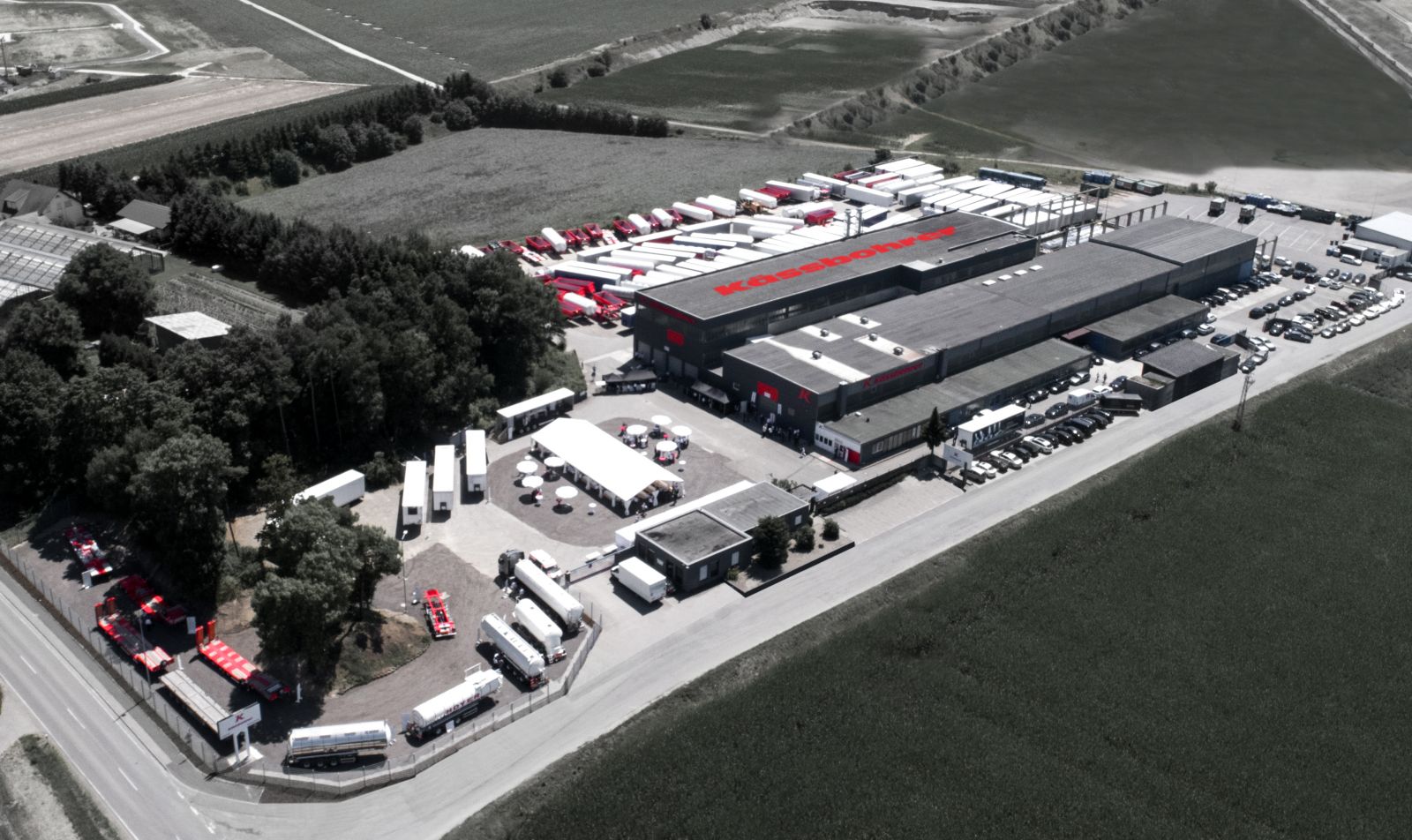 Kässbohrer Supports Corporate Social Responsibility Projects
At the opening ceremony in conjunction with the prize draw, the incomes were collected and with the contribution of Kässbohrer, it is donated to the "Aktion 100.000" campaign, organized by the SÜDWEST PRESSE journal in Ulm, supporting needy people.
About Kässbohrer
In 1893, when Karl Kässbohrer founded his Wagenfabrik in Ulm, he redefined what trailer engineering could achieve. Today, thanks to over 120 years of staying true to his ethos, Kässbohrer products are used in more than 55 countries, have innovated in more ways and have a broader product line than Mr. Kässbohrer would ever have thought possible.
In the European semi-trailer industry, Kässbohrer stands out with its incomparably wide product range, including curtainsiders, tanks and silos, low-beds and low-loaders, platforms and container chassis.
Kässbohrer's success is built on the spirit of excellence that drives Kässbohrer engineers to transcend the ordinary to achieve a level of efficiency, simplicity and reliability seldom seen. The result is a range of semi-trailers that are economical, durable and extremely easy to handle. Our promise to you can be summarized in one word: 'Enginuity '. We combine modern "engineering" with "ingenuity" – the inventive spirit.