Kässbohrer Participated in Trans-Log Trade Fair in Kalkar
22 February 2019
Europe's fastest growing semi-trailer manufacturer Kässbohrer took part in Trans-Log Trade Fair, held between 19th and 20th of February 2019 in Kalkar, Germany, focused on intermodal transport and logistics. During the fair, Kässbohrer exhibited unique examples from its complete intermodal product range, the lightest Swap Body in the market, K.SWAU CL and Trailer Innovation 2019 Winner Multifunctional Container Chassis, K.SHG AVMH.

Continuous Contribution to Regional Development
Kässbohrer Board Member İffet Türken said: "Trans-Log trade fair focuses on environment-friendly intermodal transportation. As presenting the complete intermodal product range, Kässbohrer proudly took its place at Kalkar 2019. Only 15 km from our Goch facility, we had the opportunity meet our regional partners while we showcased our latest product developments with lightest swap body in the market as well as the Trailer Innovation Winner Multifunctional Container Chassis.
Ms. Türken stated: "As Kässbohrer we have 2 facilities that are located in Germany: one of them is located in our hometown, Ulm, and the other one is located in Goch, in the middle of Germany, Belgium, and the Netherlands. As of 2019 exporting to 25 countries from our Goch location, we are closer to our customers and easily meeting their unmet requirements."
Kässbohrer's Goch Facility is dedicated to excellence since 2002 and is located in between E-31, part of the United Nations E-road network, and E-35, European route, running from Amsterdam to Rome. This facility has a strategic position at the heart of German export, intermodal logistics, and heavy transportation. Therefore, Kässbohrer participated in Trans-Log trade fair, that is organized for intermodal transport and logistics, IT solutions and related services as well as products in the field of supply chain management.
Furthermore, Goch is the main spare parts warehouse, as well as the main aftersales service for all Kässbohrer products.
During the fair, Kässbohrer Board Member İffet Türken met with reputable journalists and shared the latest developments.

Complete Intermodal Product Range is Offered by Kässbohrer
Kässbohrer presents the complete intermodal product portfolio including Trailer Innovation Winner multifunctional container chassis, robust Ro-RO, Ro-LA compliant intermodal curtainsider, the lightest swap body curtainsider and the only swap body box for garment transportation among complete intermodal product portfolio.
Offering its customers solutions for their intermodal logistics needs, Kässbohrer supports the industry with exceptional build quality, ensuring maximum uptime for efficient performance.
"We are proudly part of the European Commission-backed Aeroflex Project to generate the next generation of road vehicles with the aim to reduce emissons. We have completed our intermodal product range that provides solutions for all the needs of our customers, already supporting the industry in their efforts towards sustainability. Towards the next 125 years, we will continue to engineer the highest-quality, digitally enabled vehicles for the industry." said Ms. Türken.

Lightest Swap Body in the Market is Kässbohrer
Kässbohrer engineered the lightest Swap Body in the market K.SWAU CL for environment-friendly and economic intermodal transportation. It has the tare weight equal to 3.900 kg and with 7,2 ton forklift capacity. The vehicle has 34 euro pallet capacity and provides maximum efficiency with the lightest tare weight. The robust design allowing for stowing and freight opportunity, K.SWAU CL provides lower cost in operations.

Trailer Innovation 2019 Winner K.SHG AVMH was exhibited in Kalkar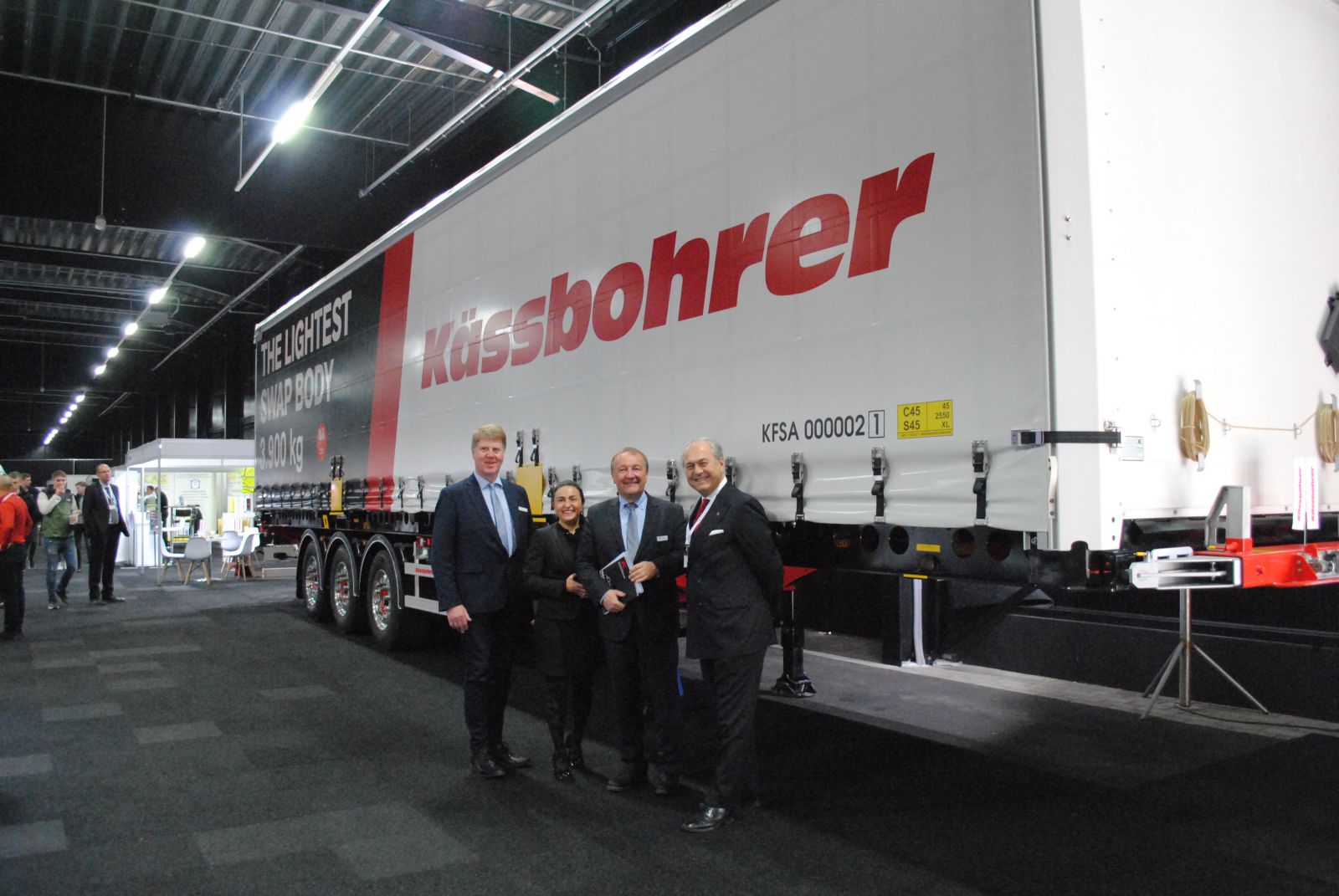 Kässbohrer's Trailer Innovation 2019 Winner in category "Chassis" K.SHG AVMH has octagonal central frame design that solves all torsional issues that lead to permanent damage of semi-trailers.
This design also enables all welded components of the chassis to reduce all ancillary tension issues making the entire chassis as tension free as it gets, preventing permanent damage arising from regular operations that are carried out with the industry standard rectangular central frame design.
Front, middle and rear extensions and carefully designed locking mechanisms provide the most user-friendly operation, even for the average driver. K.SHG AVMH with innovative octagonal central frame design presents the solution to the issues that have not been overcome over 30 years.
K.SHG AVMH is suitable to carry 1x20 ft in the rear flush, 1x20 ft on the middle, 2 x 20 ft,1 x 30 ft, 1 x 40 ft ISO, 1x40 ft HC, 1 x45 ft HC LT, 1 x 13,60 CB with 8 different loading position options. Through the multifunctionality, the operational convenience of container transportation increases the profitability of different types of container transportation and enhances profit.

Kässbohrer After Sales Services in Europe
Kässbohrer's broad after sales services are developed to take care of its customers, and wide after sales and spare parts services in Europe compliments their operations.
With K-Advance Care Service Packages tailored to each customers' operational needs as well as 24/7 Kässbohrer Hotline available in 27 countries and 23 languages, Kässbohrer's after sales services are attuned to meet the needs.