Kässbohrer Participates to NUFAM 2017 with 3 Vehicles
At NUFAM 2017, Kässbohrer presents 3 vehicles from its wide product range at Hall 3, Stand B 302.
25 September 2017
From 28th September to 1st October, 2017, visitors of the NUFAM fair will be able to see the new tipper K.SKS steel rounded body, with a 27 m3 volume, as well as non-tipping silo trailer K.SSL 35.

Furthermore, on 28th and 29th September, Kässbohrer tipper K.SKS 24 m3 will be live in action on the open air ground at the demo park.

THE TRUE POWER PACKAGE: KÄSSBOHRER K.SKS

At the grand opening of the Ulm plant, taken place on the 5th of July, 2017, Kässbohrer presented for the first time its tipper, K.SKS BS with 24 m3 volume to the market.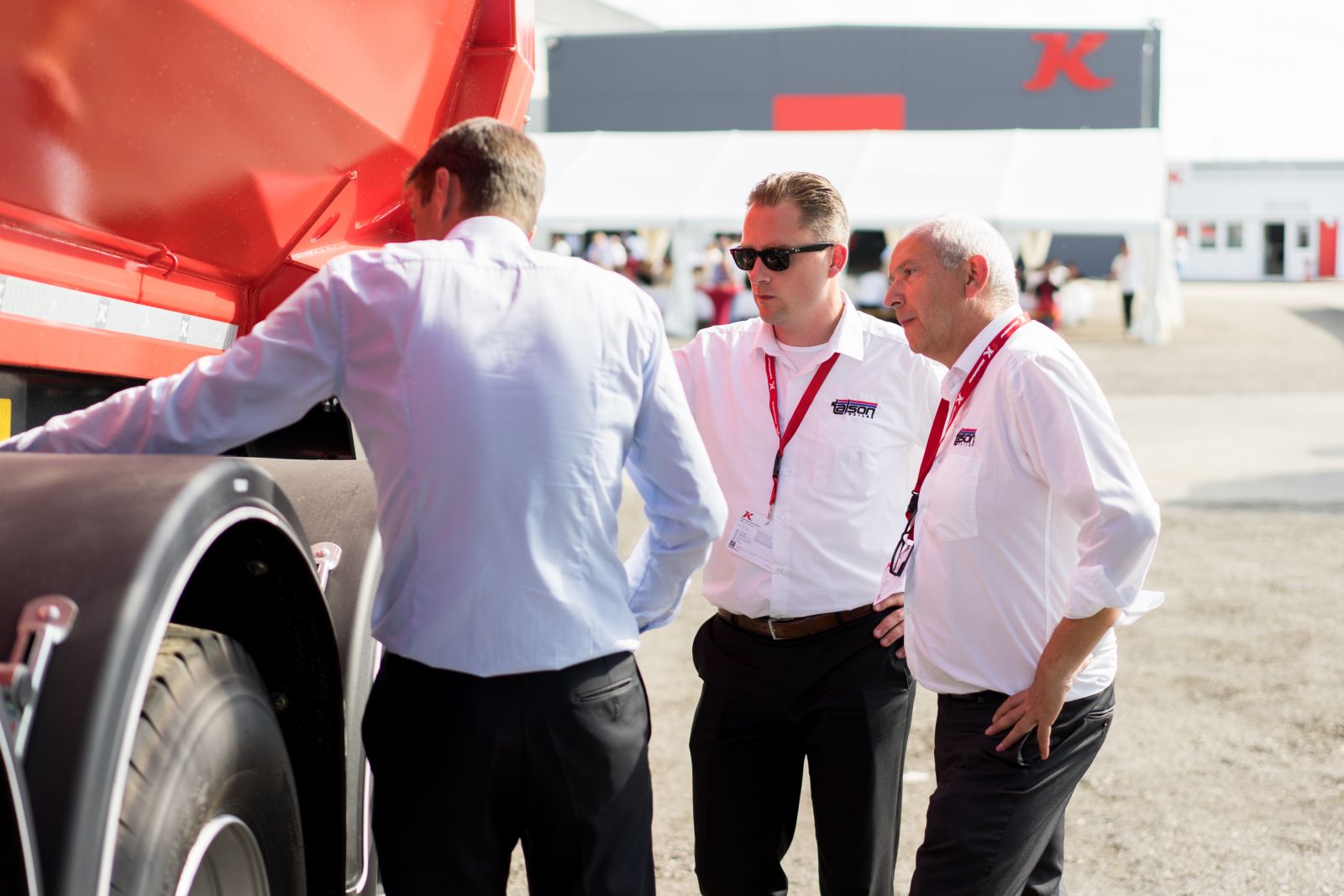 Now, Kässbohrer goes one step further in order to meet the market demand and customer requirements. At Nufam, Kässbohrer will be presenting its newly engineered tipper with 27 m3 volume.

The K.SKS has a fine-grained steel chassis with particularly stable design. In order to counteract the higher torsional forces in the terrain, the air suspension is especially reinforced in its connections to the chassis. The low empty weight of 6,400 kg is achieved exclusively by the high steel quality and the intelligent use of chassis reinforcements. In addition, Kässbohrer KTL coating, based on state-of-the-art zinc phosphate technology, contributes to the lasting value.

Engineered to couple with 4 x 2, 6 x 2, 6 x 4 trucks, K.SKS is equipped with one-touch paving brake system, which is developed for stable unloading operations and with tilt alert system that alerts the drivers on inclined lands, providing operational safety.

The tipper is made of Hardox HB 450. The standard version is 4 mm of side walls and 5 mm floor. The front wall and swing flap are also in 4 mm version.
5-step cylinder with a lifting capacity of 250 bar enables operationally efficient loading and unloading. This property makes it possible to drive with higher overall weights in the terrain.

PROFOUND EXPERTISE WITH HISTORY: KÄSSBOHRER K.SSL 35

Kässbohrer has always been appreciated by its innovative progress in the tank and silo segment. The Kässbohrer silo trailer K.SSL 35 is designed for optimum use in dust and spillage.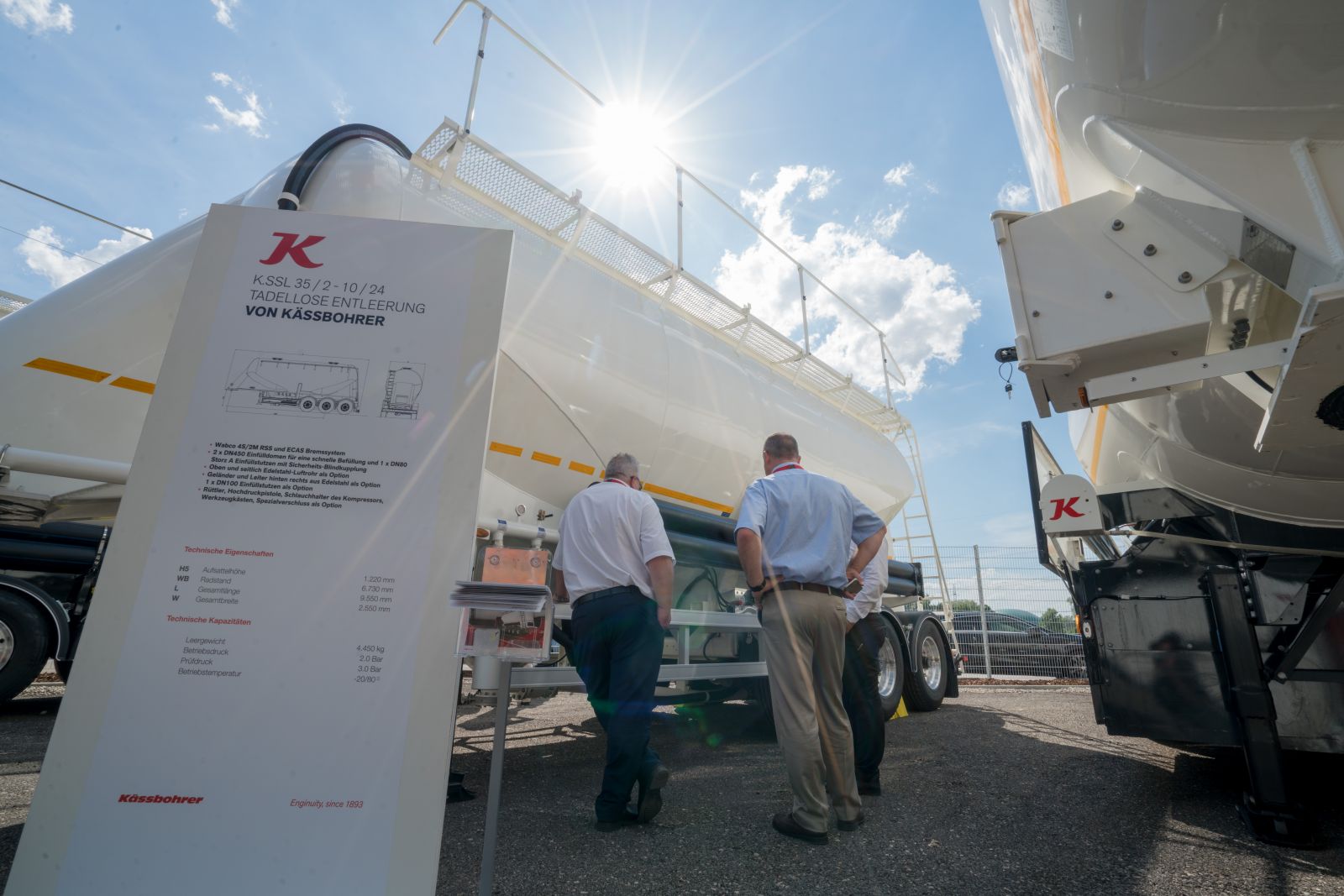 With its low weight due to the aluminum construction, it offers maximum benefits. As standard, Kässbohrer silo trailer K.SSL 35 can accommodate up to 2 compartments. With the aid of the sliding handle, it is possible to use the trailer with one or two compartments. This allows different materials to be transported simultaneously. The ring jet with ball valve at the end of the discharge line accelerates and improves the unloading process by exerting additional air pressure on the material and thus ensures a smooth operation. With the option of 3 manholes, the charging process can be additionally accelerated. The non-tipping silo semi-trailers are available from 31 m³ to 40 m³, as well as unique design, lightest weight in its segment, fast discharge and high safety functions.

Thanks to Kässbohrers lean production processes, Kässbohrer silo trailers can already be delivered within 3 months hence customers are supplied quickly and spared of long waiting times.