Kässbohrer Ulm Grand Opening
Kässbohrer premiers new vehicles and exhibits many others from their product range.
30 June 2017
Kässbohrer is proudly opening its second plant in Germany, in Ulm Achstetten on Wednesday 5th of July 2017. With the participation of State Secretary Katrin Schütz, VSL-BW President Kalhubert Dischinger, Martin Bendel the Mayor of Ulm and Paul Bailer Mayor of Achstetten, Kässbohrer will host more than 350 guests including solution partners, clients from all around the world and members of the press.

Kässbohrer has the largest product range of semi-trailers in Europe. Kässbohrer further diversifies its product range with addition of 4 new vehicles all will be launched at the grand opening. The launch products; K.SKS tipper, K.SCP paper roll curtainsider, K.SHFT tank container chassis and the K.SCA air cargo semi-trailer are all designed, engineered and manufactured to the highest quality meeting the ever changing operational demands of Kässbohrer's valued clients.

KÄSSBOHRER K.SKS - TIPPER
DESIGN IN BEST QUALITY

Kässbohrer developed the tipper semi-trailer, K.SKS, for the European market, offering the best value in construction sector. Kässbohrer tipper semi-trailer, K.SKS, with its high-strength chassis and upper structure stands for reliability and robustness under the hardest load and road conditions. The robust chassis is manufactured with cataphoretic dip coating (KTL) process offers durability and persistence throughout the economic life of the vehicle. With king pin capacity equal to 11.500 kg and unique upper structure design, K.SKS offers the maximum traction performance on the road and ideal load distribution for road safety.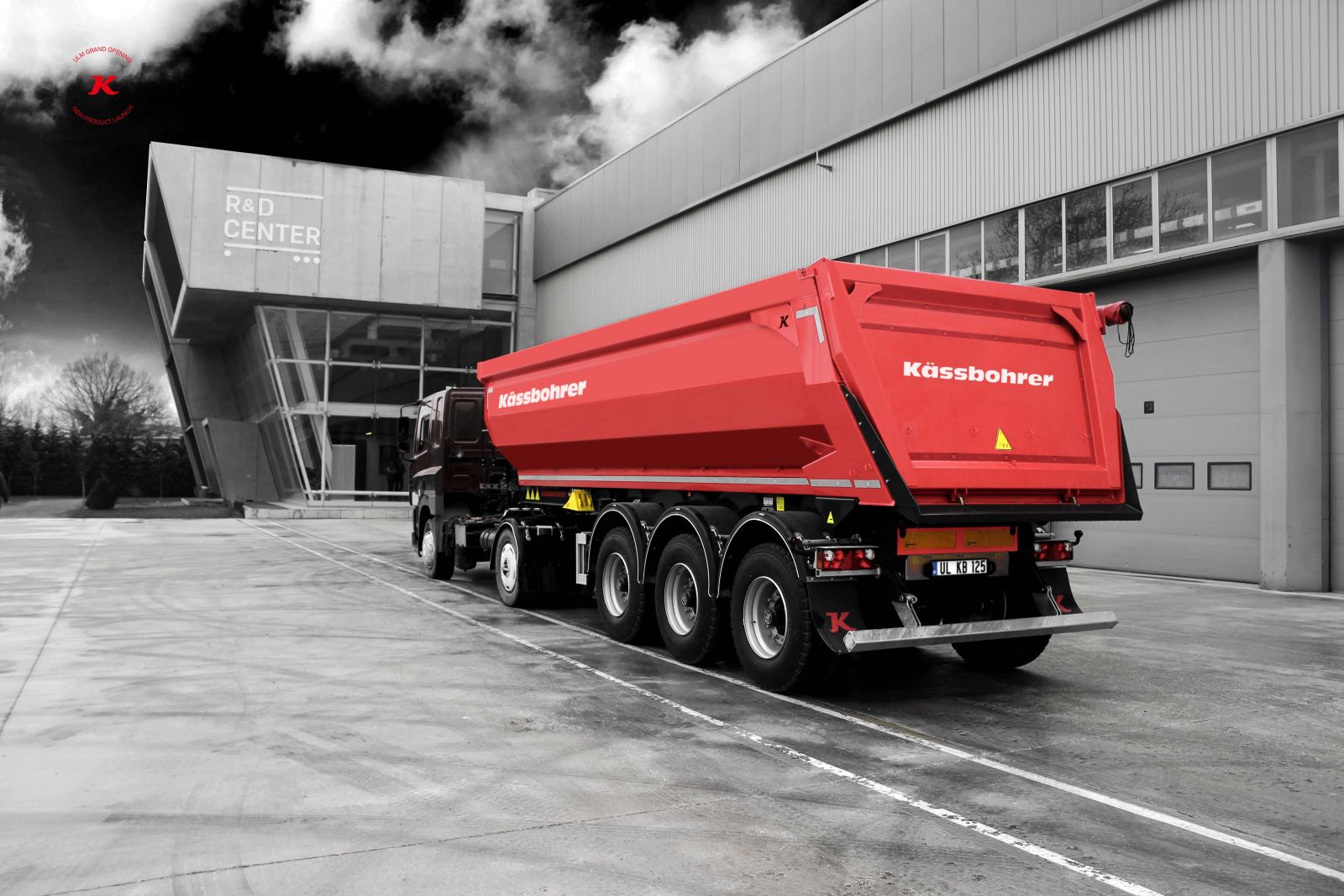 The V-shaped unique upper structure design, one-touch paving brake system and tilt alert system provides fast and secure unloading. With its strong and durable chassis K.SKS is able to endure harsh environmental conditions such as rough roads and severe temperatures.


K.SCP X – PAPER ROLL CURTAINSIDER
FOR RELIABLITY IN PAPER ROLL TRANSPORTATION

Kässbohrer presents K.SCP X curtainsider, designed and engineered for delicate and high value paper transport offering maximum convenience and safety with its unique floor design and optimal load distribution.

K.SCP X features, twin rails, mounted into the floor. Embedded rolling skates ensure quick and easy loading and unloading operation while preventing possible edge damage on paper rolls.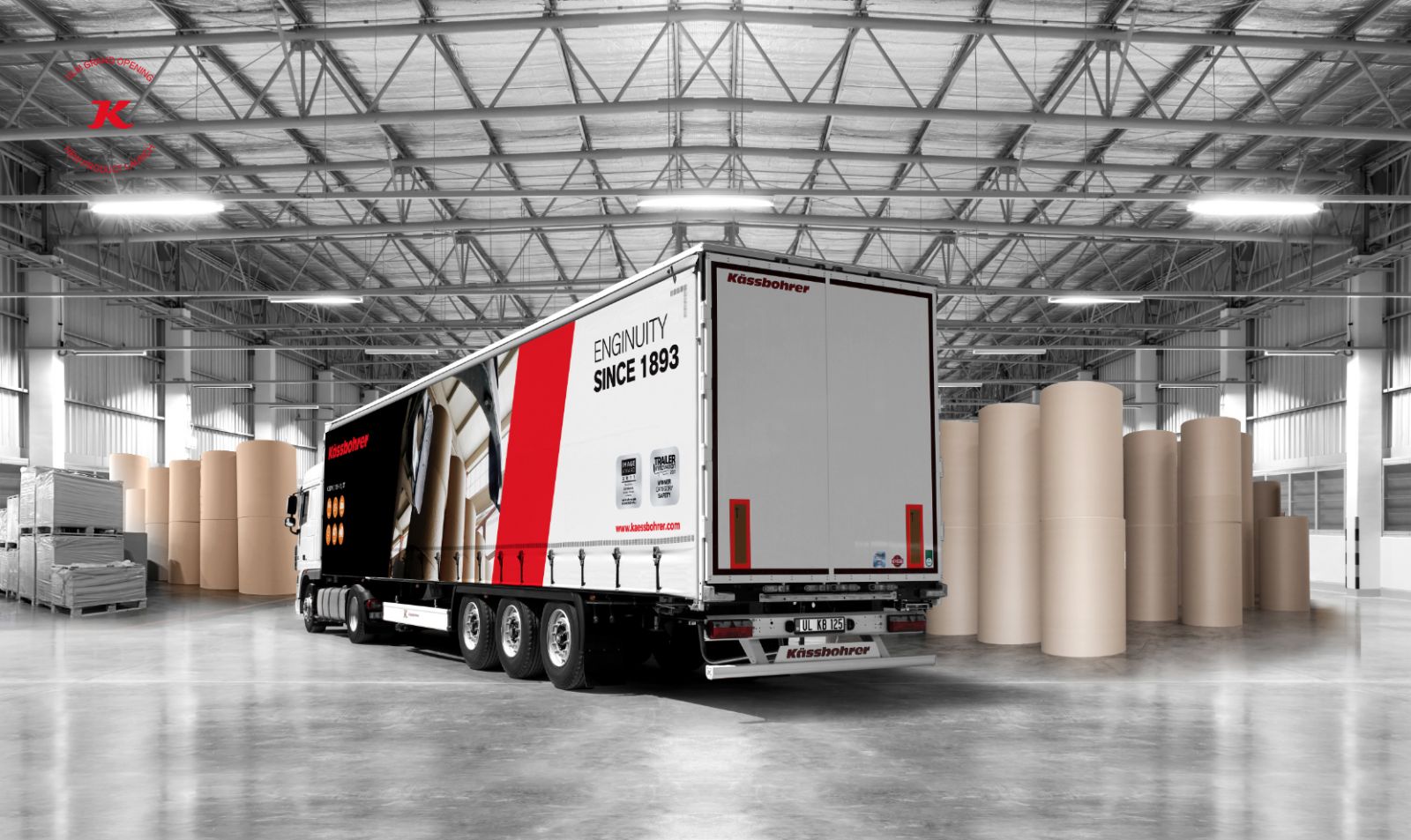 During transport, paper rolls are horizontally kept in position with the help of steel paper chocks with pins. While not in use, these pins can be stored on the KTL coated and reinforced front panel.

To facilitate the transport of various kind of loads, steel profiles to fill in between the rails are offered. While the fill-in profiles protect the rails from dirt enabling long lasting performance, they also enable the conversion of the embedded rail floor into a flat one allowing for option of the safe transport of non-paper roll goods.

K. SCP X is equipped with Kässbohrer's patented multi-point load security system, K-FIX, offering the flexibility needed in securing paper rolls in different sizes, practically in any position.

K. SCP X, the specialized curtainsider for the transportation of paper rolls is ingeniously engineered Kässbohrer to offer flexibility in choice of transportation of various loads while maintaining highest vehicle performance standards.

K.SHF T – TANK CONTAINER CHASSIS
ENGINEERED FOR SPEED AND EFFICIENY

Kässbohrer is exhibiting the K.SHF T Tank Container Chassis. A robust design and skilled workmanship lend special qualities to K.SHF T. Either extendable or non-extendable chassis construction allows the transportation of all kinds of containers, even in narrow inner-city streets. The load is always optimally distributed and high maneuverability maintained.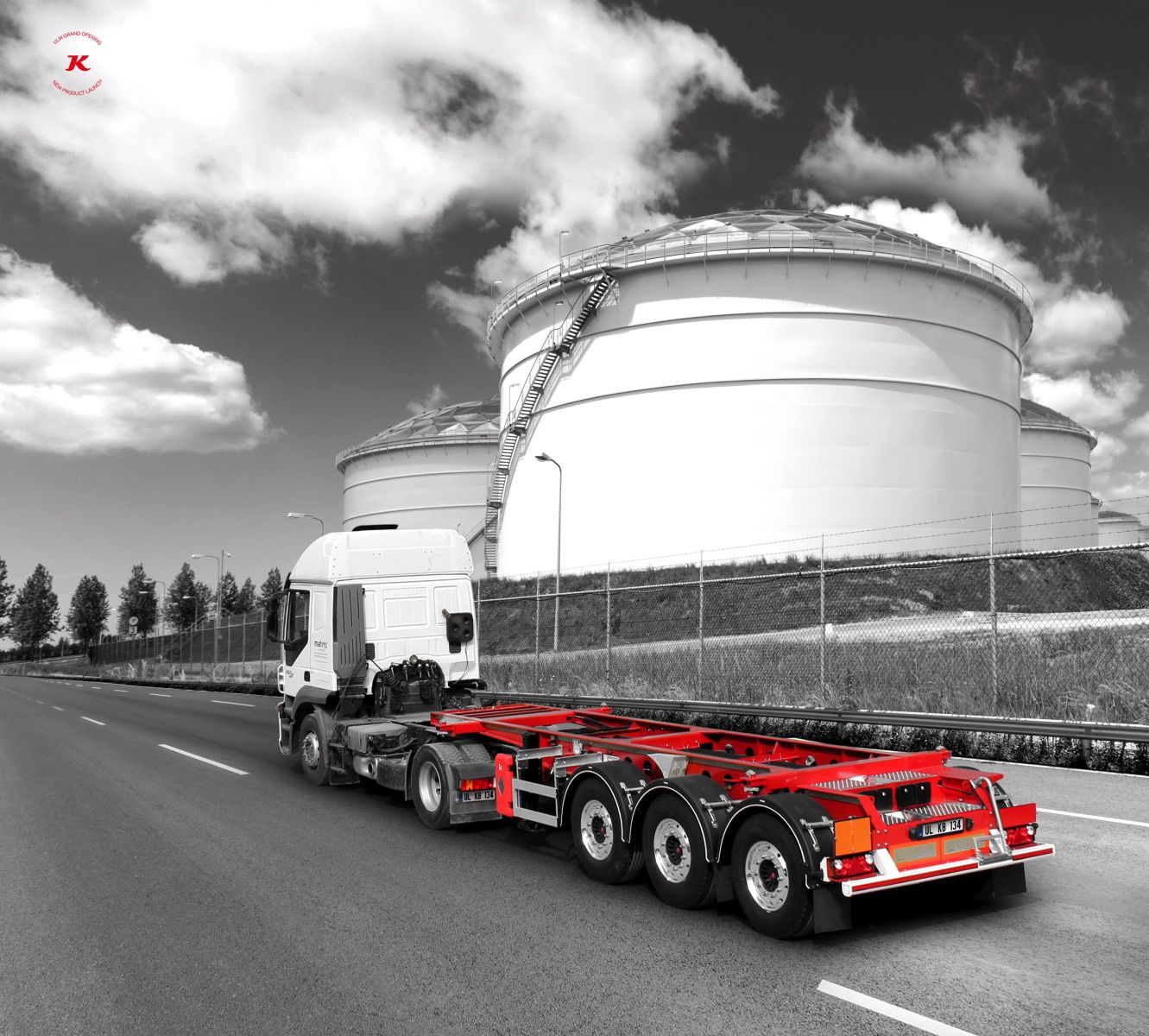 Made of high strength S700 MC steel, K.SFH T is extremely robust, but eminently light, with a tare weight of only 3,000 kg, thanks to its aluminum parts and equipment K.SFH T is not only suitable to carry standard 20' tank containers, it efficiently handles tanks with diameters ranging from 7,450 mm to 7,820 mm.

Kässbohrer delivers chassis for containers of up to 45 ft long. The multi-functional container chassis is optimized for the transport of a single container or swap body, offering clients the choice to bring the highest value for operation.

K. SFH T non-extendable KTL – coated chassis guarantees a more reliable and robust operation. Designed to accelerate loading and unloading operations, K. SFH T features container lock options enabling the best load distribution for operational safety and maneuverability.

To ensure efficient operations, K. SFH T presents numerous options such as double kingpin, self-steering axles or loading platform making the newly launched K.SFH T the most operationally flexible container chassis on the market.

K.SCA - AIR CARGO
CUSTOMISED SOLUTIONS

Kässbohrer will feature the enhanced K.SCA at the grand opening of Ulm. The K.SCA air-cargo semi-trailers developed by Kässbohrer are unique vehicles for the transport of air-freight pallets. The new K.SCA is designed to be 250 kg lighter than the old design presenting less fuel consumption advantage.

K.SCA offers new design of reinforced and KTL coated steel front panel replacing the old aluminum design adding to the robustness of the vehicle. Kässbohrer patented load securing system, K-FIX design is integrated to the new K.SCA offering K.SCA 236 lashing points which are placed into the side rave, each with a capacity of 2,5 tons.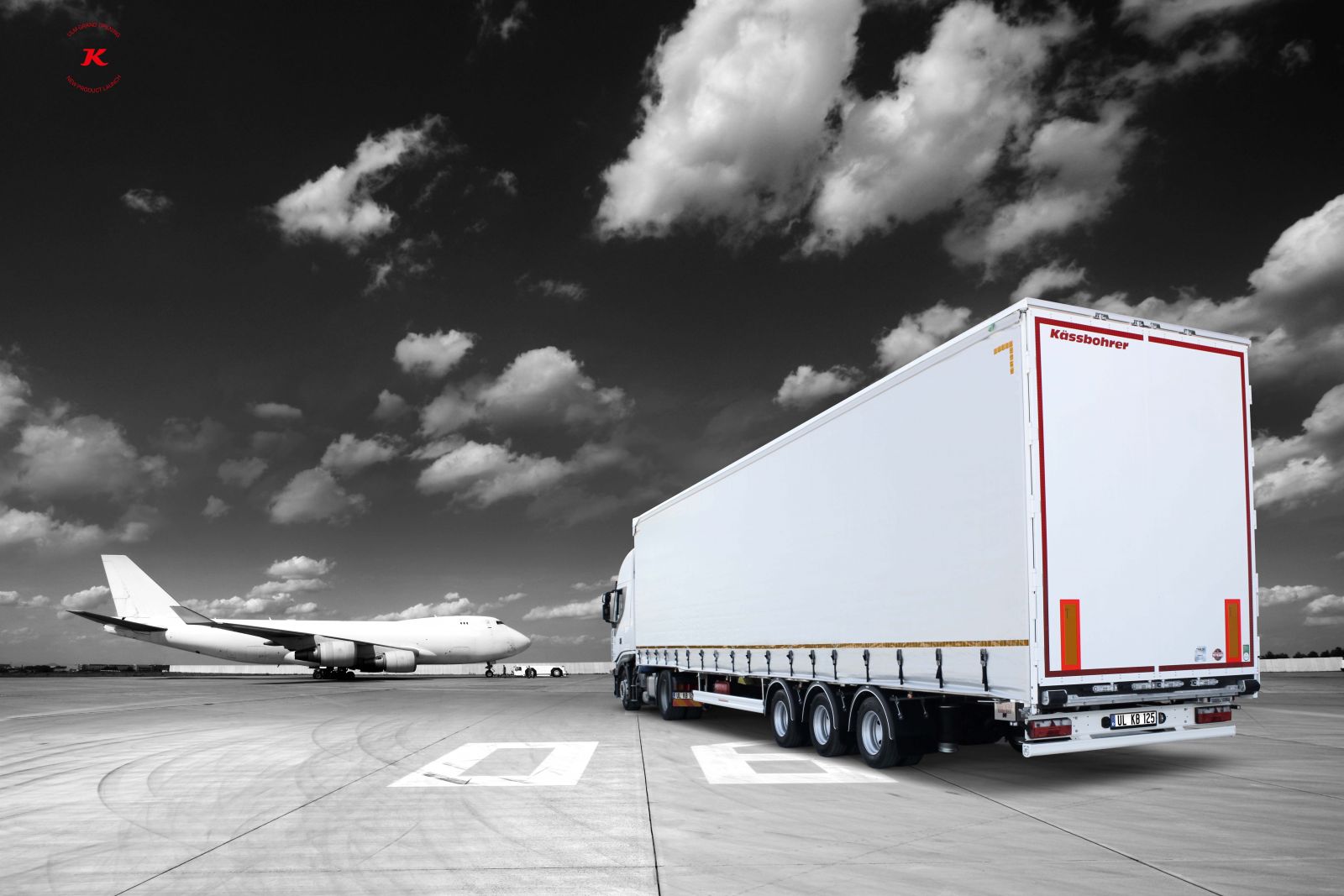 The new design features Auto-down function for safe driving as the new standard. This new safety system ensures the cargo rollers located in the floor allowing easy loading and unloading operations, to automatically retract below the floor level before the semi-trailer switches to driving position hence preventing any accidental oversight by the driver that may lead to load and vehicle damage.

Kässbohrer Vehicle Exhibition Continues With Selected Vehicles from its Product Range

K.SCL X+ - CURTAINSIDER
LIGHT FOR MAXIMUM PAYLOAD

Kässbohrer is exhibiting its light maxima K.SCL X+ now with its new Certificate for Beverage Transportation.

With the success of Kässbohrer engineers, reducing weight, the K.SCL X+ is designed to transport 1,000 kg of extra payload compared to the standard Maxima curtainsider.

With a tare weight of only 5,600 kg, the K.SCL X+ series achieves reduced CO2 emissions and lower fuel consumption. The K.SCL X+ series is designed with a neck height of 150 mm, thus providing both an interior height of 2,700 mm and the potential for a lifting roof as an option.

K.SSK - TIPPING SILO
BEST PERFORMANCE WITH OPTIMAL DISCHARGE

Kässbohrer's tipping silo semi-trailers K.SSK with a facelift is available in volumes between 40 m3 and 90 m3 depending on your specific transportation needs.
Kässbohrer is one of the few semi-trailer manufacturers capable of producing tipping silos in one piece, with a continuous aluminum chassis.

Tipping silo semi-trailers are suitable for transporting, powder or granular materials such as ash, coal, sand and much more. The Kässbohrer tipping silo series K.SSK has a special and user-friendly unloading system, which allows for a smooth material output.

The one-piece and seamless chassis offers high quality, high durability thus a long and efficient life. The trailers are developed with an electric pump of 4 kW for tipping operations without a tractor and has a tipping system with a 5-stage hydraulic system.

INNOVATION AWARD WINNER K.STS F - BITUMEN TANKER
TRANSPORTATION OF SENSITIVE GOODS
The winner of the IAA "Trailer Innovation 2017" the Safety Bitumen Tanker will also be exhibited at the Ulm factory.

Kässbohrer has engineered Kässbohrer Safety Bitumen Tanker, K.STS F 32, with a good example of industry collaboration with Hoyer Bitumen-Logistik GmbH, the German bitumen transport subsidiary of Hoyer Group, one of the worldwide market leaders in moving liquids.
Implementing the latest technology into the tank semi-trailer design, Kässbohrer's new concept improves European best practices for occupational health and safety, as well as the discharge operation safety and efficiency in general.

The electronic discharge automation system installed on K.STS.F 32, along with additional security features not only protects the driver, avoiding possible permanent injury, it increases security of the operation site and the equipment as well. The result is safer working conditions, lower operational costs and lower risks increasing the total value of ownership.