Kässbohrer's K.SLL 2 has tested by an industry specialist
21 March 2019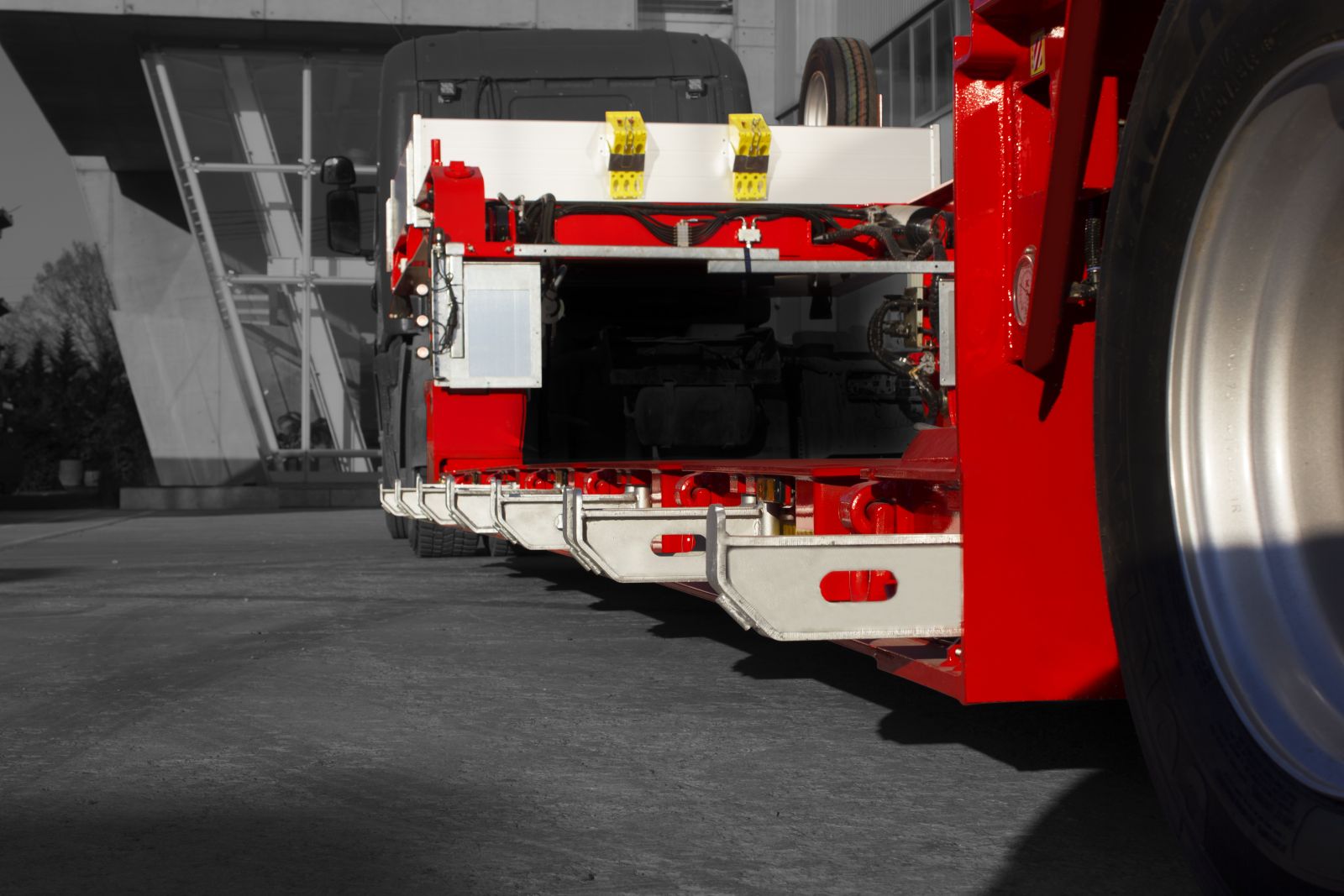 In 2008, Kässbohrer designed the first low-loader models to meet the growing global demand, from the two-axle semi flat bed trailer with rigid axles to the eight-axle model with hydraulic steering. All of them needed to prove their worth in practice.
Twelve years later, in Adapazari, at the headquarters of Kässbohrer, there is a new hall for the manufacture of vehicles, which in this country are grouped under the term "large-capacity and heavy-duty transport." The reason is simple: the capacity was exhausted and more was not possible.
In the meantime more is. The low-loader factory which opened a year ago is designed for a capacity of 2500 vehicles. Today's production capabilities with their laser cutting systems, welding robots and automated surface technology offer a lot more ways to design vehicles. Twenty years ago, in industry, a low loader was a one-of-a-kind piece with hundreds of hours of work spent on it due to mechanical processing and corresponding labour costs. Today at Kässbohrer, the same low loader is a unique piece made from automated production processes. That is why the low-loader product technology at is being re-installed due to Kässbohrer's greater possibilities of production technology, for more precision, more variants and therefore more customer benefits.
Production programme
There are currently nine versions of a semi-low loader offered at Kässbohrer. These are rigid or telescopic models with up to six axle lines with trailing steering axles. There are five versions with three to eight axle lines, which have three to six hydraulically steered axles. The latest series are the low loaders with two or three axle-steered air-sprung axles and retractable gooseneck. This series is the first to undergo a major product and production revision. Because of the heavy demand for these two- or three-axle low loaders. And other axle lines are no problem, because the suspension in the rear was designed as a module.
K.SLL
The basis of the K.SLL is a hydraulically steered two- or three-axle tailwheel unit with air suspension. It is designed in such a way that machines can be driven from the stern via landing ramps. This is a time advantage for many users compared to the driving-off of the gooseneck. The disadvantage of this loading is, of course, the use of ramps, which must then be stored and secured.
In the standard version of the K.SLL is set to loading from the front, so with retractable gooseneck. There are wedges to help the driving up process. But these are only necessary if the diameters of the wheels or chains are small. The drop bed is almost seven meters long and can be telescoped in 50 cm increments by
5.5 meters. If you order four ISO twistlocks, the low loader can also be used as a transporter for 40 ft. containers.
In the standard configuration, the platform is 200 mm thick and welded to the truck. As an additional option for different loading requirements, Kassbohrer offers platform heights of 225 mm and 250 mm. In addition to the weld joint, a bolt connection is available for customers who prefer the use of add-on platforms.
Multifunctional items
With an intermediate table (or two), long material can also be driven. The table is designed for 15 tons of charge pressure. It is plugged into one of the 50 x 100 mm stake pockets on the outside of the main frame. There are six of them in the low-bed and three on the undercarriage. On the chassis, the bags also have the task of placing the markers and lights.
When it comes to load securing, the K.SLL is equipped to great detail: On the high bed are welded in a pair of lashing rings with a load capacity of 13.4 tonnes each. In the low-bed there are seven rows with 13.4 and four with 8000 daN. On the chassis are two rows with 13.4 and three with 10 t. Thus, the "missing anchor points" topic, which had often been discussed in low loaders certainly does not apply to this vehicle. In addition, it is equipped with fold-out cross beams, which extend the loading width to 3 meters. In the test vehicle these cross beams are still secured in spring position with tension clips. In the series there will be a simple backdrop in the rotating mechanism.
An advantage of the low-bed is the wooden floor. It is divided into three segments and can be removed and installed with four traction rings each. This is a big advantage when you need to drive pipes or boats: Because if the ground is missing, the chassis changes in the direction of the girder bridges.
With this equipment, the low loader is multifunctional. As a machine transporter, for long material or for small-scale construction site equipment or a construction container.
Details
Very important for low loader vehicles is the functional safety, because the low-bed of the SLL drives with 300 mm to 340 mm above ground on roads or unpaved roads. The eight hydraulic cylinders for the lifting and steering systems are certified to US ASTM B117. Accordingly, the piston rods are protected against corrosion for 1000 hours. In addition, the hydraulic lines and cylinders designed for 250 bar operating pressure are tested with 1000 bar peak pressures.
The hydraulic lines of the gooseneck are connected to the low-bed by means of the usual quick coupling. The pneumatic system has a duomatik and for lighting and EBS system the ISO 7638 and 12098 plug connections are provided. At the front of the saddle neck, the clutch carrier is conventionally equipped with 7N / 7S, or alternatively with 12098, and standard air connections (yellow / red) according to ISO 1726 specifications. There is also a "Nato" coupling for driving the hydraulics.
Electrics
The lighting system is supplied by Aspöck, with the connectors of the cable sets tested to IP69k level. These "Aspöck-Nordic" or ASS3 prefabricated electrical couplings are not only used by Kässbohrer. Other vehicle manufacturers have also realised that the days of manual cable lug and wire stripping are over. In addition, these systems save time during assembly. On the other hand, the rule of thumb
is: anyone wanting to set up special functions, for example, more flashing lights, should order them from the factory. Or retrofit from the system catalogue to maintain functional reliability. About the only thing that is not available at K.SLL are incandescent lamps. The lighting is complete with LED.
Braking system
From a braking point of view, Kässbohrer relies on a Wabco system. Because forcibly steered axles in EBS braking systems are regarded as rigid axles, the simple 2S / 2M equipment suffices. An extension to 4S / 2M would be no advantage on a technical wheelbase of more than nine meters, as it is used for semitrailers with short wheelbase because of the often high centre of gravity.
The K.SLL has a reset-to-ride control if the air suspension has been adjusted during loading and unloading. This becomes active from the speed threshold of 15 km / h onwards. We also recommend the single-circuit Wabco ECAS equipment to set up a second ride height of 340 instead of 300 mm. Because every inch of suspension travel is welcome with heavy haulage goods in the low-bed which do not require the 3.700 mm loading height.
Steering system
The usual rear steering of the axle aggregate is carried out in the standard version by means of cable remote control. In-house radio remote control is available as an option. This always makes sense if the driver is meant to steer - faster - from inside the cab. For the meshing, a control by means of two wedges is established on the tie rod of the first axis. On the left side of the front wall, two lights are mounted, which signal the meshing and the redirecting.
The steering angle of the steering knuckle axles is a maximum of 42 degrees and 38 degrees on SAF axles. The supplier of the axles is BPW.
High-bed
The high-bed, which is bevelled at the front, is constructed with six corner stanchions. They are screwed on so as to be completely dismantled if necessary. A toolbox is mounted on the left side for small parts. As optional equipment, this box is also available at full width. A spare wheel can either be mounted in front of the front wall or on a winch in the high-bed. The side length of the high-bed would then be 1.9 meters, which should be enough for the storage of stakes and planks. If that is not enough, you can expand the collection of the rear crossbars.
Results
The situation is such that Kässbohrer's low loader models can match almost any competitor. This applies to both product and production technology. They still need a pendulum programme, but this is only a matter of time. Because with the current array of eight axle lines on the semitrailer programme, the proverbial "end of the flagpole" has not yet been achieved. The option of ordering in surface technology with partial or complete metallisation is an indication that established suppliers are faced with a new, serious competitor here.
Technical data
K.SLL2 /2H – 18/20
Dimensions (in mm)
Overall length:13.210
Overall length with telescope: 18.760
Low-bed length: 6.810
Extension : 5.550
Height of low-bed :300
Height of undercarriage :950
Weights (in kg)
Curb weight (approx.):12.675
Imposed load :18.000
Aggregate load (at 80 km / h):23.200
Total weight (at 80 km / h): 41.200
Chassis
Welded construction made of S700-MC steel, hydraulically retractable gooseneck. Central telescope, laterally folding platform extensions.
Two-axle chassis with hydraulic dual-circuit steering, redirection via cable or radio remote control. Steering angle up to 42 degrees. BPW airlight axles with drum brakes, dual tires 245/70 R 17,5 eightfold plus spare wheel.
Brake and air suspension
Wabco Trailer-EBS 2S / 2M (Version 5.50) with RSS, second axle sensed. Parking brake to operate separately in the chassis. Pneumatic air suspension with lifting and lowering valve. Option of single-circuit ECAS with two driving heights of 300/340 mm.
Electrics
Aspöck Nordic cabling, Aspöck LED lighting.
Load securing
Forged lashing rings 10 pairs Load capacity 13,400 daN, 4 x 8,000 daN, 3 x 10,000 daN according to EN 12640. 9 pairs of stake pockets 50 x 100 mm.
Floors
Three floor segments, removable, hardwood planking.