Kässbohrer strengthened the fleet of Germany's Rüdebusch
08 December 2020
Leading semi-trailer manufacturer Kässbohrer continues to strengthen the fleet of leading transport companies with its widest product range. Recently, Germany's Rüdebusch added Kässbohrer Low Beds into its extensive fleet.
Founded in 1978, Rüdebusch is now one of the largest bulk freight forwarders in northern Germany with over 40 years of experience, state-of-the-art vehicles and a high-performance partner network. With around 700 employees, Rüdebusch has 7 locations and its headquarter is located in Braunschweig. The transport company is operating with around 630 modern vehicles.
Mr. Wieland Rüdebusch, General Manager at Rüdebusch, and Mr. Vincent Koel, Manager Region Northern Germany at Kässbohrer, shared their thoughts about this valuable partnership.
"As Rüdebusch, we are already operating with Kässbohrer Bitumen Tanker K.STS that makes difference with its robustness, safety features, enables fast loading and unloading operations and offers operational efficiency. As a result of our experience with Kässbohrer, we have decided to expand our fleet with Kässbohrer Low Bed K.SLL 2.
We are glad to strengthen our fleet with our old partner Kässbohrer and I'm sure that our partnership will grow in the future." stated Mr. Rüdebusch.
"As Kässbohrer, we are proudly presenting the complete construction product portfolio with silo, tipper, platform and low-bed semi-trailer product ranges to our customers.
Our Low-Bed with 2 axles K.SLL 2 has the lowest loading height with the ground clearance of just 100 mm and accommodates the maximum height on heavy-haulage transportation.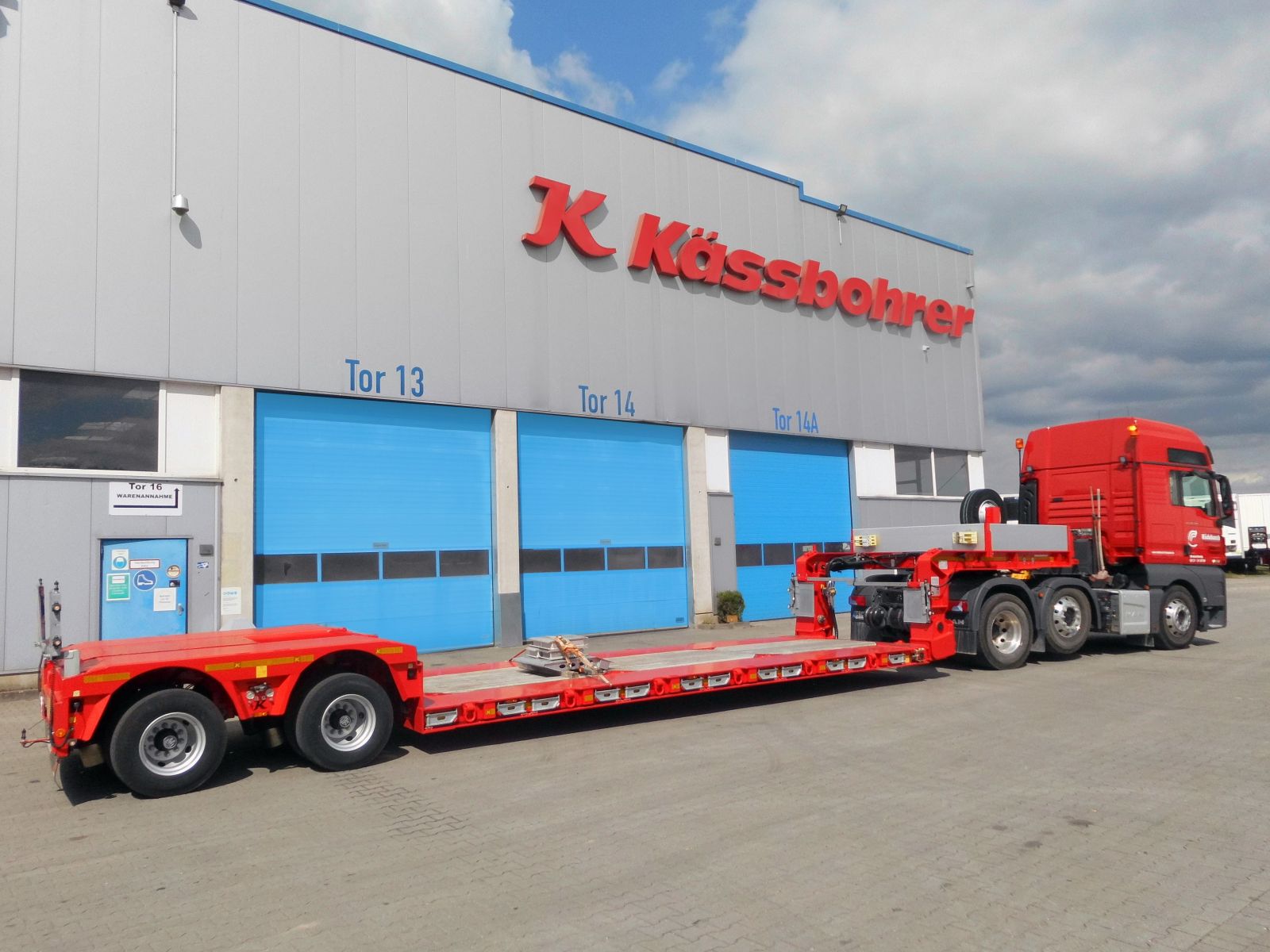 The vehicle enables flexible transportation of tall and heavy goods with its special pool length of 6.810 mm, king-pin capacity of up to 24 ton and does not require for additional permission and is extendable by maximum 5.550 mm.
To provide maximum maneuverability under the toughest road conditions, the vehicle is equipped with hydraulic axles of 12 ton capacity each with a turning angle of 42°.
K.SLL 2 is offered with a detachable gooseneck shortening the time needed for loading operations of construction and work machines while enhancing operational safety with the front loading capability.
Kässbohrer's K.SLL 2 is equipped with several options, such as Central lubrication unit to reduce maintenance requirements, Front loading ramps to shorten loading and unloading operations and is fully metalized to prolong the vehicle's lifetime.
As Kässbohrer, we value our partnership with Rüdebush and believe that our partnership will grow with our efficient, robust and high quality vehicles, engineering excellence and dedicated sales and after-sales team." Stated Mr. Koel.