OLOF MTT Chooses Kässbohrer
Kässbohrer strengthens OLOF MTT'S Intermodal Fleet
18 May 2018
Europe's leading international transportation company distinguished with the strong intermodal solutions, Olof MTT added 50 new Kässbohrer Mega Trailers to its fleet. Already boasting a fleet with 425 Mega Trailers, Olof MTT chose Kässbohrer quality perfectly fitting for international requirements.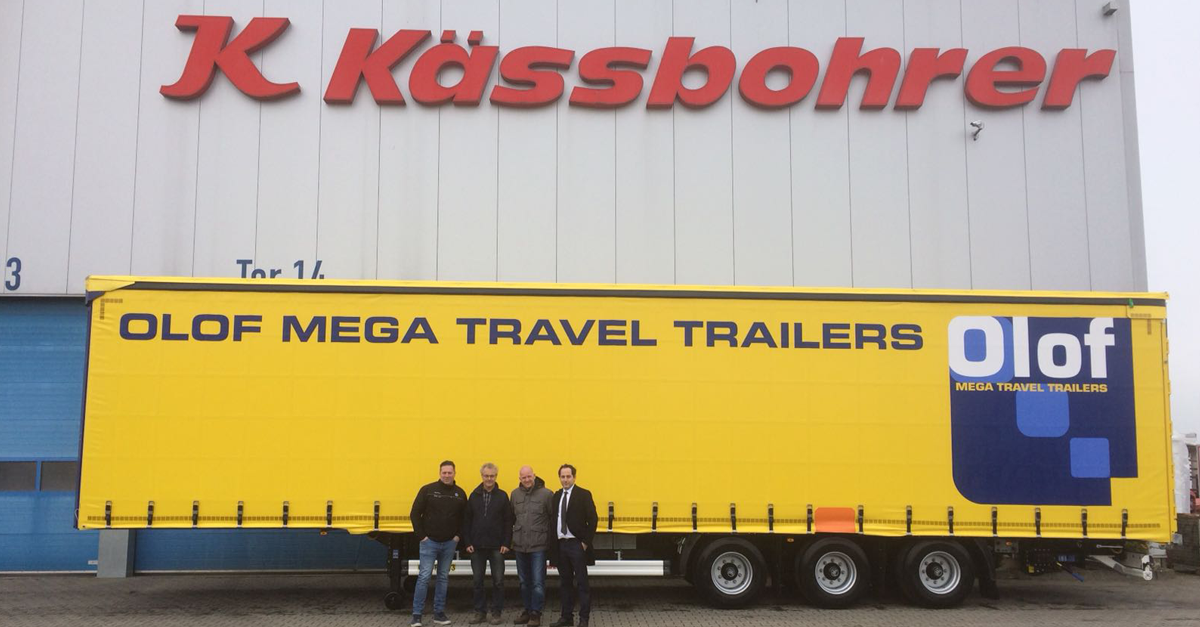 Kässbohrer, Europe's fastest growing trailer company with the widest product range, continues to be the manufacturer of choice for large fleets with its quality products offering maximum efficiency, high-transportation capacity and a low cost of ownership. In the intermodal transportation, Kässbohrer meets the demands of the industry with its complete intermodal product range, fast delivery times and 350 different certified aftersales points all around Europe. Now, with the new 50 Kässbohrer Mega Trailers in its fleet, Olof MTT will continue to build on their service quality in the intermodal operations.
Olof MTT, stands out in intermodal solutions with successful transport operations all around Europe. The company offers transportation solutions to customers from Benelux, France and Germany,for years. Already having a fleet with 425 Mega Trailers, Olof MTT will provide operational ease and more efficiency with the new 50 Kässbohrer Mega Trailers, offering train loading systems, reinforcements for Ro Ro transportation as well as boosting 34 pallets capacity. 40 units of the new vehicles delivered to Olof MTT, are Kässbohrer Mega Curtainsiders suitable for rail transportation offering extra advantages with their robust and functional bodies, making the operations much easier with the sliding curtain and roof system and requiring lower maintenance. 10 units are Mega Trailers, which are produced with a load stopper system between the roof and the floor specialized for white goods transportation.
Operational ease and efficiency are more important
Kässbohrer Mega Trailers with unique suspension design are suitable for both huckepack and ferry transportation and meet the challenges of complex intermodal loading and unloading operations. These vehicles provide maximum efficiency in all road conditions and every kind of cargo operations in Europe. With the patented multi-point K-FIX Load Securing System, Kässbohrer Mega Trailers ensure securing various forms of cargo quickly, flexibly in 236 points and with the utmost reliability of 2,5 tons capacity at each strapping point.
Rene Louwers, one of the owners of Olof MTT's stated: "With the special and distinctive products that Kässbohrer offers for all types of needs, we can address different logistics requirements of our wide variety of customers" and he continued: "Kässbohrer Mega Trailers will leverage our capabilities with their high-transportation capacity, the options that fully meet our requirements; operational ease, strength and hassle-free operation." Intermodal transportation contributes to decrease in CO2 emission with less carbon emitting modes of rail and sea while offering customers flexibility in operations. Olof MTT is able to contribute to this, aiming to carry out its transportation activities with minimum CO2. "With Kässbohrer, we found a partner, who meets the highest applicable European standards and with these new trailers, we'll not just reach operational excellence but also contribute to our objective of reducing CO2 emissions", added Mr. Louwers.
Kässbohrer continues to be the solution partner for transportation and logistics sector by offering the best quality and services to its customers. Not only product based but also with its innovative approach, Kässbohrer contributes to the transportation sector itself. Additional to Mega Trailers, Kässbohrer proves its claim of having the widest product range in Europe and offers all intermodal solutions for its customers. In its intermodal product range, Kässbohrer offers the Huckepack Mega Trailer, Huckepack Curtainsiders, Swap Body and Container Chassis product groups. The Mega Trailers are engineered to meet the just-in time delivery challenges, while the proverbial robust chassis provides greater effectiveness during ferry operations. The Curtainsider`s robust chassis provides a long-term usage in challenging intermodal loading and unloading conditions. Kässbohrer's Swap Body product is created for making the most economical switch between land, sea and railway transportation with 34 euro pallet capacity and provides maximum efficiency with its 4.850 kg tare weight. The specially designed Swap Body Box is fitted with aluminum panels and garment hangers to provide the best solution for textile transportation. The light Container Chassis handles both containers and swap bodies ranging from C45 to C55. The vehicle eliminates complex front container locks positioning process. While allowing higher payload, its design also allows the safe and easy loading of containers with only 4 locks.
Kässbohrer Key Account Manager Mehmet Önen stated: "As Kässbohrer, we're operating in more than 55 countries and offering more than 800 different types of products, we're meeting the requirements of the international transportation industry. Our Mega Trailers are designed to operate flawlessly in as many countries as possible to offer our customers minimum hassle when they're changing from country to country within Europe. These vehicles used in road, sea and rail freight transportation are required to operate trouble-free and be fully compatible with different transportation modes. With extra supports under chassis, Kässbohrer vehicles become suitable for Huckepack. The 4x2 Ro Ro rings, robust design and special reinforcements make them choice products for ferry transportations. Olof MTT has an extensive, global network and is a very reliable partner in the intermodal transportation range. We are pleased to have this collaboration with Olof MTT and hope to be the long-term partner with our intermodal transportation solutions."
Features of Kässbohrer Intermodal Solutions:
Kässbohrer Mega Trailer is offered with Load Security Certificate EN 12642 Code XL - VDI 2700 and approved for transport by express freight train at speeds up to 140 km/h.
The K-Fix safety system enables the load from a total of 236 different points on horizontal trailer profile each with a capacity of 2,5 tons to securely carry the load, compliance with Code XL load safety certificate. With a base reinforced to support up to 7.2 tons of forklift axle weight, it ensures operational flexibility by giving the choice of loading freight in different combinations and sizes.
The galvanized rear bumper, 1 meter wooden planks inside the rear door, the 4x2 Ro-Ro rings and reinforced king-pin section for different types of chassis are special designed for ship transportation.
The vehicles with the options of plastic ramp buffer on the coupling console, extra cover and welded connections on sliding plate area, 300mm inside bumper positioning and ferry skids are perfectly made for ferry operations.
The Mega Trailers are offered with the option of Auto Reset Function. The control valve returns automatically to driving position when the speed exceeds over 10 km/h.
The Mega Trailers are suitable for e - f - g - i wagon types with P400 classified train loading brackets.
Kässbohrer Swap Body is offered with stowing and freight opportunity which provide lower costs in operations. It is suitable for the transportation of all goods with pallets, garment, glass, electronic devices, automotive and chemical goods.
The Swap Body provides maximum efficiency and makes the most economical switch between land, sea and railway transportation with 34 euro pallet capacity and its 4.850kg tare weight. Also it enables a faster operation, high volume loading with more capacity and partical loading due to its sliding curtain and roof system.
Aluminum Box Swap Body has 98m3 volume and 4.970 kg tare weight. Multi-purpose aluminum panels and load bars in the panel structure provide flexible operations and load safety for textile transportation and double deck loading operations. The vehicle is suitable for garment and valuable goods. It is eligible to carry 10 tons of load on the second floor with double-deck bars.