K-FIX
THE LOAD SECURING SYSTEM FROM KÄSSBOHRER
Kässbohrer has developed a multipoint load securing system, K-FIX which ensures you can secure various forms of cargo quickly, flexible and with the utmost reliability.
Our patent pending K-FIX side rave design has been developed over 6 months with 1 million km accelerated durability test and is EN12640 (strapping points on commercial vehicles) certified.
K-FIX side rave has a total of 236 points and 34 lashing rings on the floor allowing for great flexibility to secure all kinds of loads, including train loads and irregular loads that require to be secured very close to side-pillars. The special design of the slots of the K-FIX rave also allows for optimum weight transfer making the best use of load security products.
K-FIX rave design permits the use of all types of end fittings in accordance with EN 12195-2 (D1 to D7) hence enabling our customers to make full use of their existing fittings at no extra cost. Furthermore, K-FIX does not require any additional adaptors for use of standard load security products.
One of the patent worthy innovations of K-FIX side rave is its compliance with TIR regulations of international freight transport regardless of trailer model. K-FIX is the only load securing system that guarantees the owners to extend their freight operations world-wide without thinking of international compliance issues.
The K-FIX equipment can be extended to include additional load securing aids such as K-STOP and K-PILLAR. All accessories can easily be attached to the side rave with bolts are compatible EN 12640 and EN 12195-2 (D1 to D7).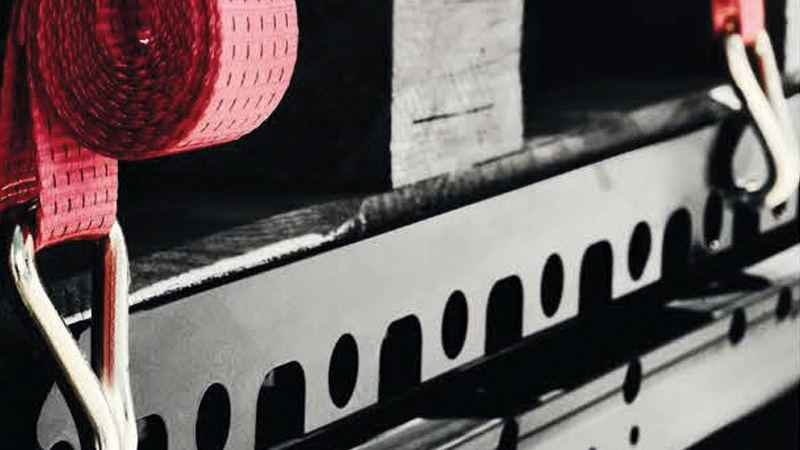 K-STOP+
PALLET STOPPER WITH RING
The K-STOP pallet stoppers with great reliability prevent the sliding of euro pallets. K-STOP pallet stoppers can be used in the modular form and may be mounted with effortless ease to the K-FIX system or removed as required.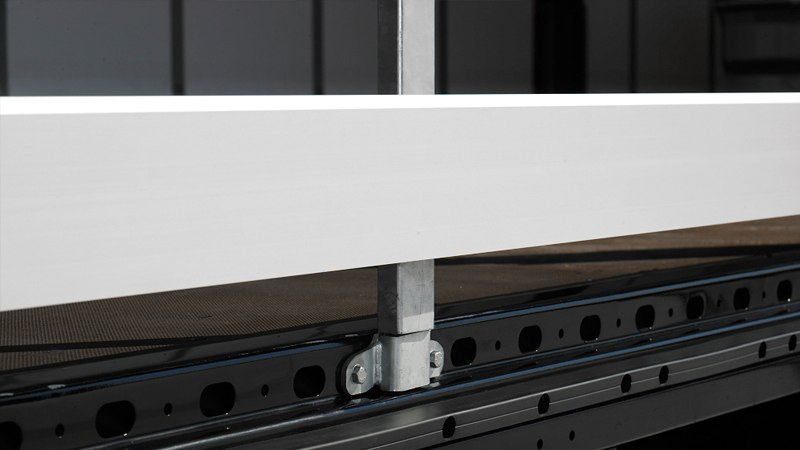 K-PILLAR
VERTICAL LOAD HOLDER
Depending on the load, K-PILLAR can be fitted to various positions on the K-FIX system. K-PILLAR secures and stabilizes the load during journeys - even under the most difficult road conditions.
WHEREVER WHENEVER
YOU NEED IT!
SYSTEM COMPONENTS
1 - K-Fix outer frame
2 - Modular K-Fix accessories
3 - Equipment for load securing
QUICK
An especially stable side rave has been developed for the K-FIX system. It is manufactured using roller shaping technology (cold forming). Thanks to its special shape, both the side rave holes and separate lashing rings can be used as strapping points, while pallet linings (fitted in segments and individually replaceable) and pillar dollies can be screwed down at any point. A continuous rubber buffer strip is standard in order to prevent damage to the side rave from forklift lifting masts.
FLEXIBLE
K-FIX has been designed in such a way that you can very easily secure diverse types of loads using standardised accessories. This guarantees you excellent flexibility. Complicated special equipment is no longer required.
RELIABLE
Each of the specially developed K-FIX lashing rings has a maximum permitted tensile force of 2.5 tonnes! Ideal for reliable load securing and safe transport!