Kässbohrer's Complete Low-Bed Range
11 March 2019
Offering the complete construction product range, Kässbohrer presents extendable, non-extendable, hydraulic Low-Beds and Low-Loaders for heavy-duty transportation.
Powered by its motto "Enginuity", Kässbohrer's Low-Bed vehicles are equipped with cutting-edge technology for its customers in more than 55 countries.
Kässbohrer offers technical superiority with progressive steering, hydraulic suspension and metalization and meets the need of its customers with wide range of options including double extension, versatile ramp options and advanced load security for operational safety and efficiency.
Kässbohrer will exhibit the finest examples from its low-bed product range during bauma 2019 at the heartbeat of the construction industry, taking place between 8-14 April, in Munich, Germany at Stand 722 I 6 in Open Area.
Kässbohrer's Extendable Low-Bed Product Range
Preferred by general heavy haulage experts, Kässbohrer's K.SLA extendable low-bed series offers the most flexible configurations accommodating 3, 4, 5 or 6 axle options, chassis extensions up to 7.300 mm as well as 7 different rear loading ramp options and lateral extension brackets. Equipped with advanced load security features, K.SLA series offers improved maneuvering capability in the toughest working conditions with its self-steering axles.
K.SLA 4 from this product group is designed for usage in heavy goods transportation, such as the construction sector, mining sector and heavy construction equipment transportation.
Kässbohrer engineered K.SLA R, the extendable low-bed semi-trailer with 3 axles, for the transporters who specialize in the transportation of construction equipment, as well as farming and foresting machinery. Available with wheel recess as standard, K.SLA R is offered also with excavator arm recess option and a wide range of ramp options to ease the loading and unloading operations.
Lowest Low-Loader with 100 mm ground clearance
Chosen by bulk and high load haulers, Kässbohrer's low-loader semi-trailer series K.SLL are perfect solutions for heavy duty transportation. Kässbohrer's Low-Loader K.SLL 2 and K.SLL 3 have been re-engineered with the most technological systems and components.
K.SLL 3 is the lowest low loader with a ground clearance of 100 mm, accommodating the maximum height on heavy-haulage transportation. K.SLL 3 with 3 axles comes with detachable gooseneck shortening the loading operations of bulky goods while enhancing operational safety with the front loading capability. With its strong chassis and robust construction, K.SLL 3 is designed for the reliable and on-time transport of heavy-haulage and abnormal goods. K.SLL 3's load capacity is 54 ton. On the other hand, K.SLL 2's load capacity is 44 ton.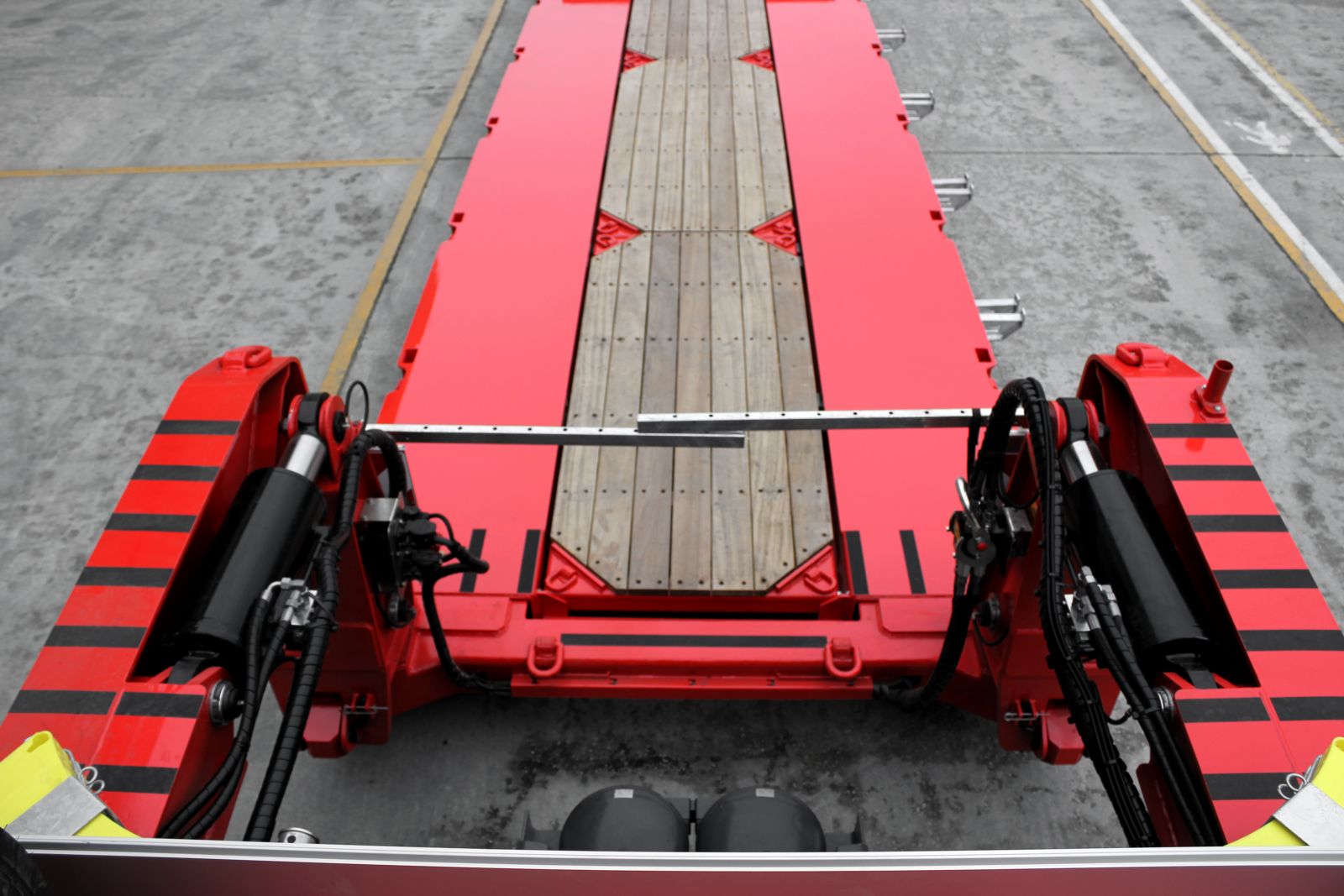 Operational Efficiency by Kässbohrer
Kässbohrer sets new standards for operational flexibility for fleet management in heavy transportation with its K.SLS series.
Kässbohrer reengineered the non-extendable 3 axle low-bed semi-trailer, K.SLS 3, for setting new standards in heavy goods transportation with its 3 different variants based on its king-pin and axle capacities, and by minimizing the tare weight with its lighter chassis design starting from 7.700 kg to increase the payload as well as to enable energy-efficient and eco-friendly heavy goods transportation.
New Maximum Maneuverability by Kässbohrer
Engineered with hydraulic steering axles and remote control, Kässbohrer launched K.SLH series in the beginning of 2019. The series with 5-6-8 axle option offers maximum maneuverability and flexibility in the toughest road and working conditions and is developed especially for the special haulage industry in the fields of manufacturing and construction.
Kässbohrer's extendable hydraulic steering 6 axle low-bed semi-trailer, K.SLH 6, with 102 ton transport capacity, is designed for all types of heavy-duty transportation. Providing a gooseneck capacity of 30 ton and extendable up to 17.5 meters thanks to its double extension. K.SLH 6 is developed for the extreme heavy duty transport. On the other hand, 8 axle low-bed semi-trailer K.SLH 8 is designed with 36 ton gooseneck capacity and hydraulic suspension system offering an effective and secure load distribution.
Kässbohrer After Sales Services in Europe
As a result of its customer-centric approach, Kässbohrer offers a wide range of after sales services to its customers.
For its customers that are operating in the construction industry, Kässbohrer offers extended warranty options a wide selection of its complete construction product range including bauma 2019 fair vehicles K.SSL 35 and K.SPA M.
With K-Advance Care Service Packages tailored to each customers' operational needs as well as 24/7 Kässbohrer Hotline available in 27 countries and 23 languages, Kässbohrer's after sales services are attuned to meet the needs.