Insight into the industry: Exchanging experience and information - The members of the Lower Rhine Chamber of Industry and Commerce (IHK) visit Kässbohrer
As Europe's fastest-growing trailer manufacturer, Kässbohrer also supports local authorities and groups. In this context, Kässbohrer invited the members of the Lower Rhine Chamber of Industry and Commerce to its headquarters in Goch on 8th November 2016.
08 November 2016
The visit took place as part of the Profile 2016 company visit programme organised by the Lower Rhine Chamber of Industry and Commerce Duisburg · Wesel · Kleve in Duisburg. This program offers both experts and managers the opportunity to visit successful companies. As part of this successful program, the host companies invite guests to visit their company, tour their production facilities and share their experience with new technologies, innovations and business processes. This serves as the foundation for an intensive exchange between the hosts and participants and also among the participants themselves.
The host, Mr. Willy van der Velden, Quality Manager at Kässbohrer explained: "As a company based in Goch, we are very pleased to participate in successful projects like these and support the industry in the process. These visits and projects help us to get to know each other and also share information and experience. We profit from both the discussions about automotive-specific topics with the other participants and also as a host for the event."
During the visit, Mr. Stefan Finke, Head of Training and Further Education Examinations from the Lower Rhine Chamber of Industry and Commerce said "The name Kässbohrer is known throughout Europe. When you tour the production facility, you find out what the plant in Goch actually manufactures. With our automotive visit programme we give experts and managers the opportunity to discover important companies in the automotive industry in the Rhine region. This exchange of information and experience is extremely valuable for the Rhine region supplier industry."
The event gave the attending members of the Lower Rhine ICC the opportunity to tour the production facility and gain an insight into the extensive product range and services offered by Kässbohrer. These include ADR and pressure testing, vehicle inspections and safety inspections, for example.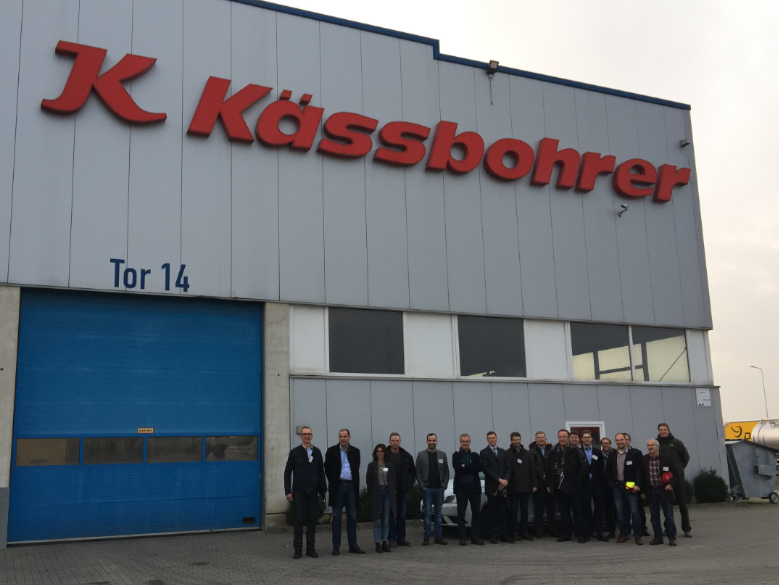 From Goch to whole Europe
Founded on an area of 108,000 m2, Kässbohrer's Goch facility stands at the crossroads of European route E 31 and E 35, connecting Amsterdam to Rome, therefore at the hearth of Germany's export and intermodal transportation.
Goch Plant is the headquarters for European sales and marketing operations and main disposition center for Kässbohrer Fahrzeugwerke GmbH. Goch Plant is also the main after sales service and spare part depot for Europe.