Maximizing safety and efficiency Kässbohrer demonstrates digital trailer control
Hannover, September 22, 2016 – During the 66th IAA Commercial Vehicle Show in Hannover between September 22 and September 29, German semi-trailer manufacturer Kässbohrer is exhibiting its Digital Trailer Control (DTC) unit, integrated on a Kässbohrer 60 m3 tipping silo, K.SSK 60. The functioning system is demonstrated at New Mobility World LIVE, previously known as the Innovationstage.
22 September 2016
The DTC unit is designed to maximize the safety of drivers and operators, by centralizing the mechanical control of different silo semi-trailer equipment in a single digital control unit, acting as a remote controller. The DTC can be used both on iOS and Android devices.
The DTC system was nominated at Trailer Innovation 2015, during the previous IAA Commercial Vehicle Show in 2014.
The main value of the DTC is minimizing occupational injury risks which generate a substantial cost in terms of healthcare and productivity, as well as administrative costs.
As European Agency for Safety and Health at Work suggests, outdoor workplaces have to be arranged to avoid injury risks. So the DTC can be implemented as an accident prevention tool and assist the user for a safe ride.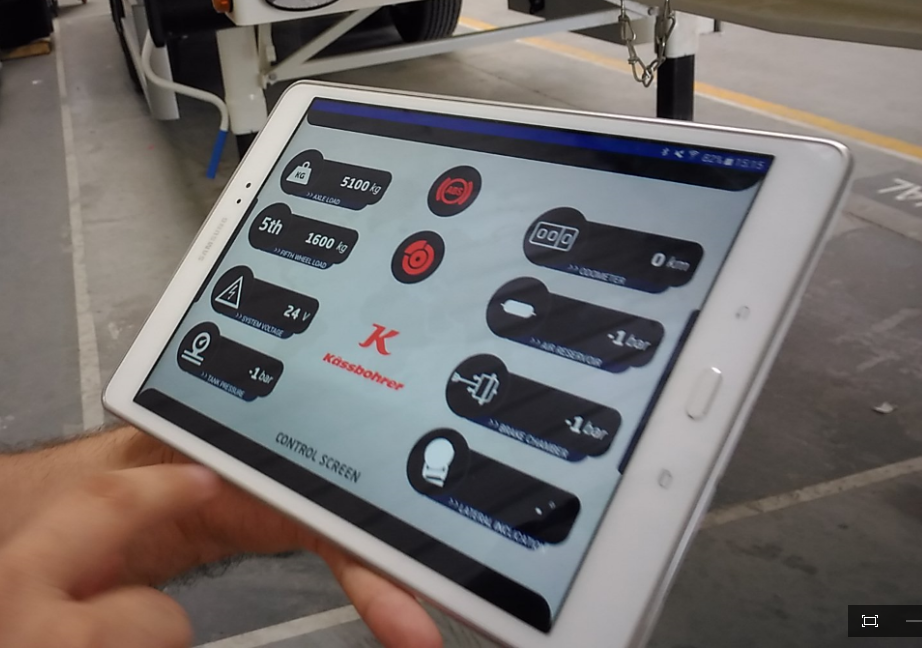 How it works?
The DTC interface has two main screens: Control Screen and Information Screen.
Through the Control Screen, the user can control various semi-trailer functions from a safe distance, including the working lamp, breathing valve, pump, tipper, vibrator, axle lifting, driving height and traction help.
By operating these functions using a single screen, the operator saves his/her precious time, while he/she no longer needs to climb the vehicle for opening or closing valves, risking falling down and getting injured.
On the other hand, the Information Screen of the DTC shows all the information about the semi-trailer on a single screen, including the 5th wheel load and axle load, tank pressure, the travelled distance, air pressure, system voltage, brake wear and lateral inclination angle of the semi-trailer. The system warns the operator when the 5th wheel load and axle load exceeds the permitted safety limits, indicates the need for replacement of brake pads and prevents the tipping if the inclination angle is above the safety limits.
The DTC is designed to be used in all other semi-trailer types as well by applying small changes to its interface, without the need of any additional equipment.
About Kässbohrer
In 1893, when Karl Kässbohrer founded his Wagenfabrik in Ulm, he redefined what trailer engineering could achieve. Today, thanks to over 120 years of staying true to his ethos, Kässbohrer products are used in more than 55 countries, have innovated in more ways and have a broader product line than Mr. Kässbohrer would ever have thought possible.
In the European semi-trailer industry, Kässbohrer stands out with the unmatched width of its product range, including curtainsiders, tanks and silos, low-beds and low-loaders, platforms and container chassis.
"Our promise to you can be summarized in one word: 'Enginuity '. We combine modern "engineering" with "ingenuity" – the inventive spirit."