NUFAM 2019 Fair Product Launch: Kässbohrer's Brand-New and Robust 2 Axle Steel Tipper: K.SKS B
26 September 2019
Kässbohrer proudly showcases its brand-new, robust 2 axle steel tipper, K.SKS B for construction during NUFAM 2019 fair.
Unique Load Distribution is offered by Kässbohrer
With its unique design enabling ideal load distribution, K.SKS B can carry 26 ton payload with only 9 ton axles, 1 ton more than conventional 2 axle tipper semi-trailers. This feature also enhances the service life of axles by distributing the load through king pin.
Increased Vehicle Stability is offered by Kässbohrer
The upper structure and chassis integration is further enhanced by assistant frame and body fix structure, preventing vibration and noise by increasing vehicle stability.
This integrated structure reduces reverse movements on tipping shaft and hydraulic cylinder connections, also with lateral forces on welding zones which may arise during cruise and ensures prolonged product life.
Easy Material Flow is offered by Kässbohrer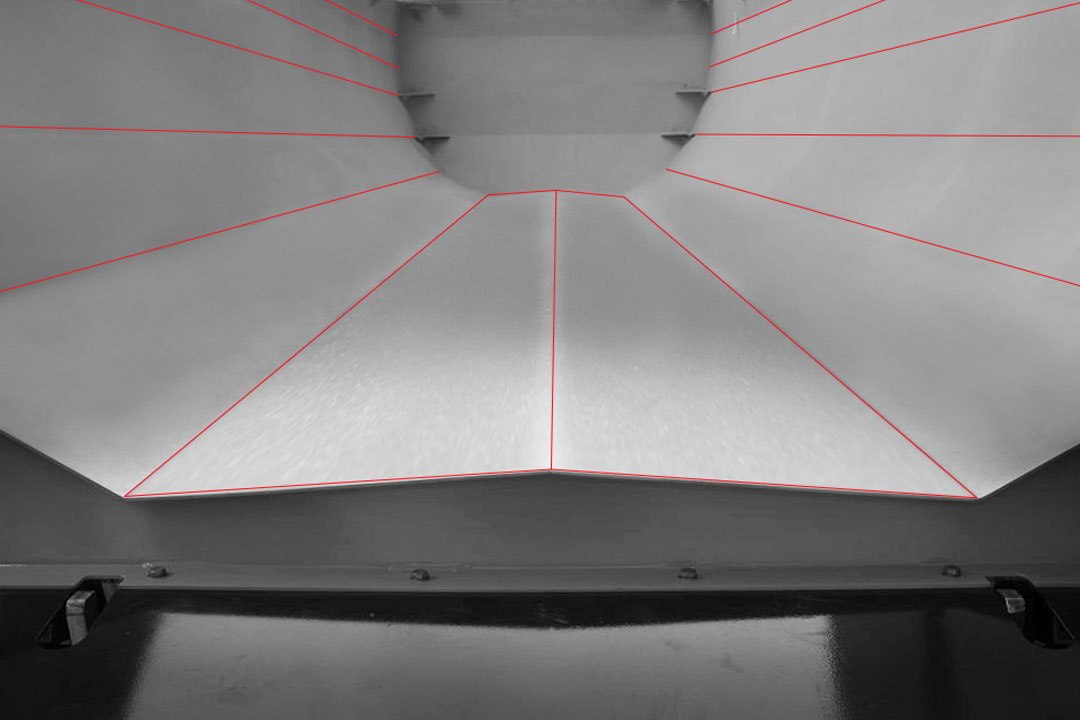 Kässbohrer Steel Tipper K.SKS B prevents bulk adhesion on the body and ensures fast unloading through unique "V" form of the floor combined with special bended design on the side walls which leads to more efficient flow rate of the materials. Body floor durability is enhanced with internal box profiles under the V shape. This feature also enables rapid cleaning of the floor.
Operational Safety with Wide Tipping Shaft by Kässbohrer
Specially designed wide tipping shaft provides better stability during the tipping operation by distributing the load to a wider area to enhance operational safety.
Efficient Loading and Unloading is offered by Kässbohrer
Kässbohrer steel tipper K.SKS B can be equipped with Premium 5 step H-type hydraulic cylinder with a lifting capacity of 250 bar enabling efficient operation of loading and unloading.
Reliability and Robustness is offered by Kässbohrer
K.SKS B's high-strength chassis and upper structure stands for reliability and robustness under the hardest load and road conditions.
Moreover, the robust chassis coated with cataphoretic dip coating (KTL) offers durability throughout the economic life of the vehicle.
Easy Road Paving Operation is offered by Kässbohrer
Engineered to couple with 4x2, 6x2, 6x4 trucks, K.SKS B is equipped with one-touch paving brake system and tilt alert system for operational safety.
Technical Details of 2 Axle Steel Tipper K.SKS B
5th Wheel Height: 1.220 mm
Wheel Base: 4.900 mm
Total Height: 3.020 mm
Total Length: 8.600 mm
Body Length: 7.900 mm
Distance from Kingpin to Mechanical Legs: 2.500 mm
Distance Between Axles: 1.310 mm
Last Axle to End of Tipper: 900 mm
Total Width: 2.550 mm
Loading Width: 2.390 mm
Chassis Width: 1.300 mm
Tare Weight (±%3): 5.150 mm*
* min. tare weight with options 5.150 kg
King-Pin Capacity: 15.000 kg
Axle Load: 18.000 kg