Bauma 2019 Fair Product Launch: Kässbohrer's New, Highest Quality Platform for Multi-functional and Heavy Duty Transportation: K.SPS H 4
08 April 2019
Offering the complete construction product range, Kässbohrer showcases a selection of its highest quality products during the bauma 2019 fair. During the fair, Kässbohrer launches its brand new platform vehicle K.SPS H 4 for heavy-duty transportation.
Safe Transportation of Heavy, Flat and Ballast Goods is offered by Kässbohrer
Kässbohrer's non-extendable heavy-duty platform semi-trailer with 4 axles, K.SPS H 4 provides robust and safe transportation of heavy, flat and ballast goods with its rigid and flat chassis, variable container positioning combinations and different load safety options with EUMOS-40511 and Code XL certifications.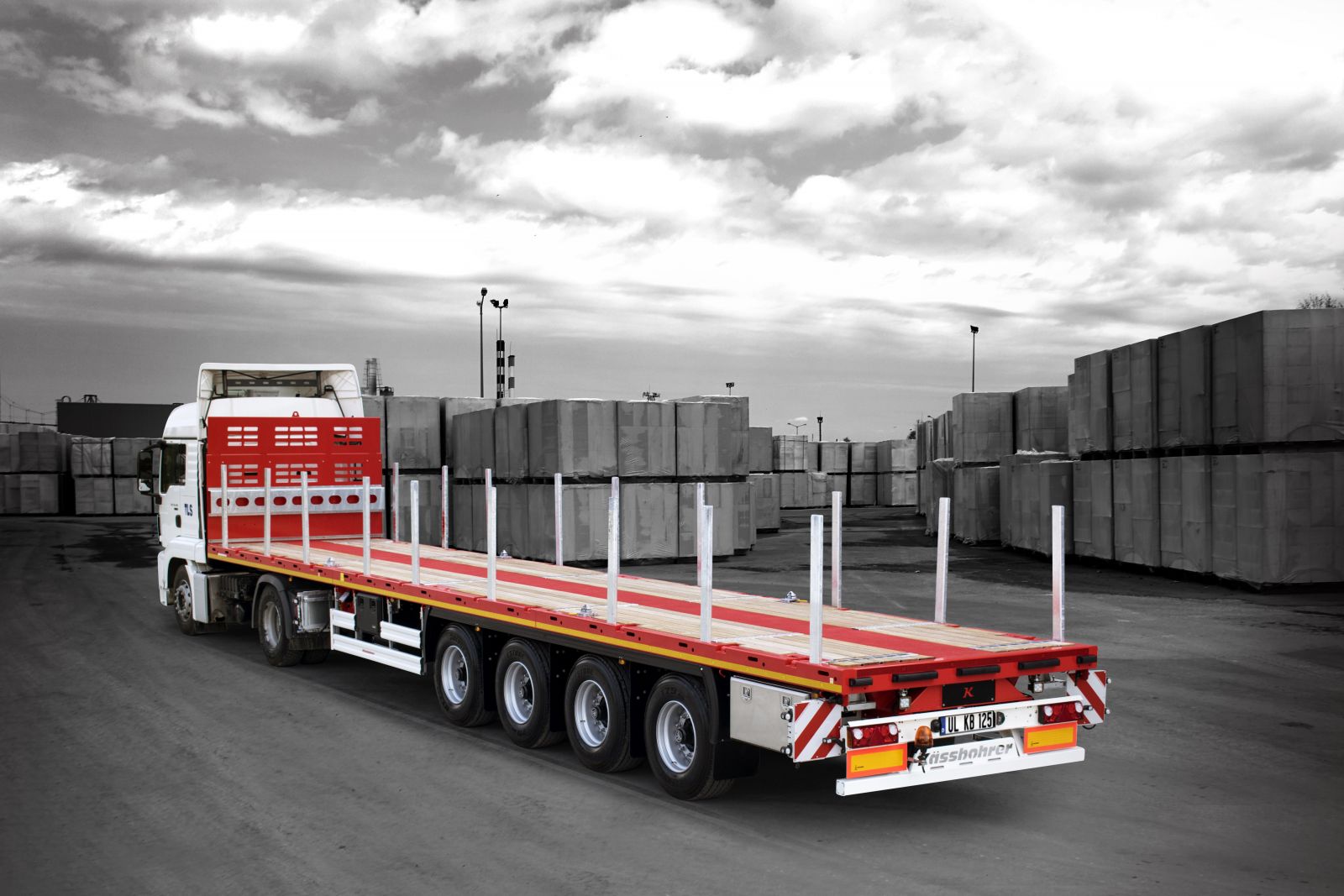 Higher Payload is offered by Kässbohrer
Through the usage of S700MC steel with higher yield strength allows light-weight advantage that enables financial saving and less gas emission.
The light configuration of the vehicle provides increased payload and less fuel consumption.
Box-Profile Chassis Construction is offered by Kässbohrer
With the box-profile chassis construction, K.SPS H 4 separates from the conventional platform vehicles. Equipped with box-profile chassis, K.SPS H 4 offers better load distribution and resistance against deflection with its compact form, yielding a higher strength for heavy-duty loads.
Flexible Storage Options are offered by Kässbohrer
Adaptable to trucks with 5th wheel heights from 1.100 mm up to 1.250 mm, with its flexible storage options under the chassis and variable load safety features and new lashing rings with increased capacity of 13,4 ton, K.SPS H 4 enhances the operational flexibility whilst offering a robust and safe transport solutions.
Additionally, Kässbohrer offers storage box for side & rear walls and pillars as well.
Easy Loading Operations for Container Transport is offered by Kässbohrer
K.SPS H 4 is equipped with the rear flush on the back side of the platform to facilitate the container positioning. For flexible and quick loading and unloading operations, container locks are easily attachable and detachable inside the container lock pockets.
K.SPS H 4 provides transportation alternatives from 20 ft up to 40 ft with its flat and robust chassis structure.
Best Anti-Corrosion Protection is offered by Kässbohrer
With the metallization method, Kässbohrer offers the best corrosion resistance up to 20 years for its K.SPS H 4.
Technical Details of Heavy-Duty Platform K.SPS H 4
Total Length: 13.600 mm
5th Wheel Height: 1.100 – 1.150 – 1.200 – 1.250 mm
Tare Weight: 7.850 mm
Gross Vehicle Weight: 54.000 kg
Payload: 46.150 mm
Platform Height: 1.250 – 1.300 – 1.350 – 1.400 mm
Total Width: 2.540 mm
Wheelbase: 7.700 mm