Kässbohrer and Autamarocchi's Strong Partnership for 10 Years is Bolstering
03 October 2019
Kässbohrer continues to strengthen the fleet of leading logistics companies. Lastly, Kässbohrer's steady partner Autamarocchi bolstered its fleet with 100 high-quality Kässbohrer Coil Transporter K.SCC X+. With this delivery, Autamarocchi is operating with more than 300 Kässbohrer vehicles in their fleet.
Founded in 1986, Autamarocchi is one of the 5 top biggest Italian transporter companies and offers intermodal transportation solutions all over Europe. Offering made-to-measure transport in the field of container and FTL transport, Autamarocchi is the owner of one of the top three European container chassis fleets.
Oscar Zabai, President of Autamarocchi, Ervino Harej, Vice General Manager of Autamarocchi, Roberto Vidoni, Autamarocchi's BU Director Container Transport Europe, Çetin Nuhoğlu, President of Kässbohrer, and Mehmet Önen, Head of Key Account Management attended the delivery ceremony that took place in Kässbohrer's Adapazari facility.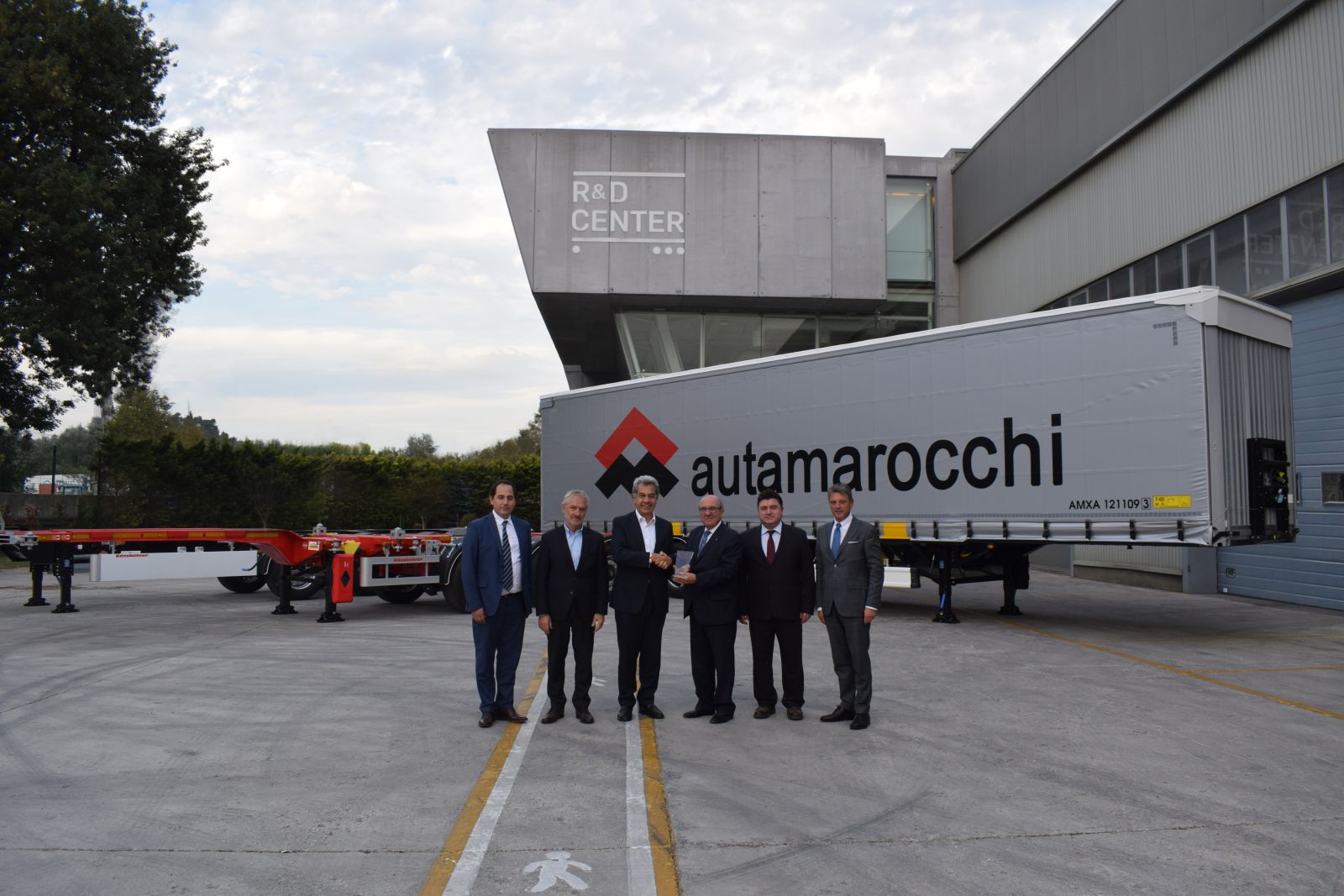 Mr. Oscar Zabai stated: "As Autamarocchi, we have a strong partnership with Kässbohrer for 10 years built on trust. During that time, we experienced first-hand the robustness of Kässbohrer vehicles. Our focus is intermodal transportation and we are looking for reliability and efficiency for our operations. Kässbohrer K.SCC X+ is suitable for both huckepack and ferry transportation and meet the challenges of complex intermodal loading and unloading operations with its robust, strong chassis.
We are impressed with the Adapazari production facility, the size, the modern production with highest technology and the ability to produce the widest product range with precision.
Addition to highest-quality vehicles they offer, we value Kässbohrer's broad after-sales network and the support from sales and after-sales team make it easier to work with Kässbohrer. I'm sure that our long-term partnership will continue to grow and we will continue to bolster our fleet with Kässbohrer vehicles."
Mr. Nuhoğlu stated: "As Kässbohrer, our main priority is to meet the versatile needs of our customers. We listen and further develop each one of our widest product range to deliver vehicles that will add value to their business. We highly value our 10-year strong partnership with Autamarocchi, which is one of Italy's top transporter companies. I have no doubt that our partnership will continue to grow."
Mr. Önen stated: "It has been my pleasure working with Autamarocchi for 10 years. Beginning of our trustful relationship is of course our highest quality and robust vehicles that offer the best TCO. However I am sure our care and availability 24/7 to address Autamarocchi's vehicle and operational needs is the best supplementing quality we have.
As a result of Autamarocchi's trust in Kässbohrer, lastly we delivered 100 Coil Transporter K.SCC X+ to our steady partner. Our Coil Transporter is suitable for e-f-g-i wagon types and suitable for tunnels P400. Additionally, the vehicle is equipped with 2 x 4 units of Ferry rings in compliance with Standard EN 29367-2.
Our Coil Transporter offers secure transportation during operations through load security certification in compliance with Standard EN 12642 Code XL – VDI 2700 including Beverage Transport Certification, 4 x 2 units of pillar pockets inside of the coil-well. Moreover, according to request 7x2 units of 81 x 81 mm pillar pockets on the side rave available to enhance the security features of our vehicle. K.SCC X+ is equipped with K-Fix Load Security System each with 2.5 ton and that can be used with or without side boards. Because of the challenging operational processes of ferry operations, K.SCC X+ is equipped with extra features including reinforced and closed king-pin section with a welded sliding plate for ferry operations, rear bumper 300 mm inside, 1 meter high wooden planks inside of aluminum door profiles and extra plate on sliding plate section to close the gap.
Coil well of the vehicle can be closed with a cover during the return freight and this feature offers operational efficiency by providing two transport solutions for one semi-trailer
For the protection of rear bumper, K.SCC X+ is offered with 2 units of demountable "galvanized" ferry skids under the bumper. Coil Transporter is equipped with kick plate to prevent the front panel to be damaged. 1.200 mm high and 12 mm thick plywood kick plate provides additional protection to the vehicle.
In order to increase the inner height, K.SCC X+ can be equipped with roof lifting option that offers the effortless sliding ability and is suitable for Code XL Certification.
The light but robust aluminum rear door of the vehicle provides maximum life performance and the modular design of the door guarantees easy maintenance.
K.SCC X+ is KTL coated for 10 years of no rust perforation guarantee and covers all steel structural parts.
Last but not least, we guarantee the continuity of our partners' operations with our broad after sales services including K-Advance Care Service Packages tailored to each customers' operational needs as well as 24/7 Kässbohrer Hotline available in 27 countries and 23 languages.
I have no doubt that our partnership will continue to grow with the power of our widest product range and broad after sales services network."
Technical Information about Kässbohrer Curtainsider, K.SCC X+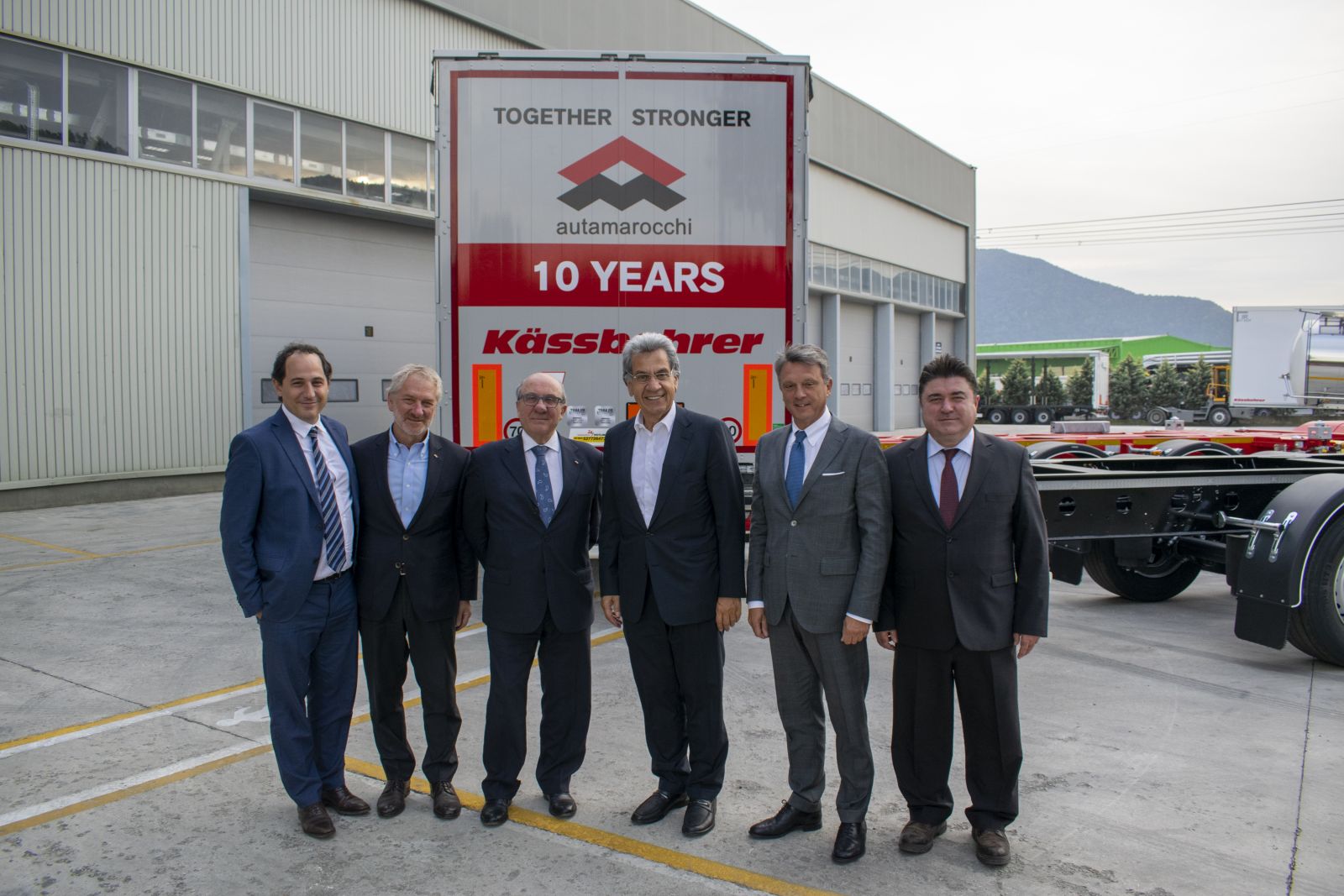 Fifth Wheel Height of the vehicle is 1.100 mm
Coil-well length is 7.250 mm
Coil-well diameter is from 900 mm to 2.100 mm
K.SCC X+ is equipped with additional 7 x 2 units of 81 x 81 mm pillar pockets on the side rave