Kässbohrer and Mooij Forwarding & Logistics B.V.'s Partnership
Keeps Growing with the Delivery of Next Batch of 10 Curtainsider Trailers
05 February 2019
Europe's fastest growing semi-trailer manufacturer Kässbohrer has delivered 10 Mega Curtainsider K.SCD M to Netherlands' logistic service provider Mooij Forwarding & Logistics B.V., Kässbohrer partner since 2013, already operating 60 Curtainsider K.SCD in their fleet.
Mooij Forwarding & Logistics B.V. is a logistic service provider and has been active in transportation industry to and from Eastern Europe through its locations situated in the Netherlands, Germany and Poland.
During the delivery ceremony, CEO of Mooij Forwarding & Logistics B.V, Mr. Nico Mooij and Mr. Frank den Ouden from Kässbohrer Sales Team gave speeches about their partnership.
Nico Mooij stated: "As Mooij Forwarding & Logistics B.V., we are working with Kässbohrer since 2013 and already operate with 78 double stock Curtainsiders and 60 of them are the Kässbohrer Curtainsider K.SCD. As a result of the durability and quality of the products, in 2018 we invested in 10 Mega Curtainsider K.SCD M that provide flexible load capacity. We are totally satisfied with the quality, durability and operational flexibility of Kässbohrer vehicles in our fleet. Additionally, Kässbohrer supports us in our after sales operations and focus on our operational needs. Hereby, we have decided to make an investment for another 20 K.SCD M in 2019."
Frank den Ouden stated: "As Kässbohrer, we are meeting the versatile needs of our customers in more than 55 countries and support their operations with our broad after sales services. We are collaborating with Mooij Forwarding & Logistics B.V. since 2013 and lastly delivered K.SCD M that offers flexible load capacity and equipped with safety features such as lateral pillars and anti-theft curtain and 24 units of double deck bars that provide high volume transportation solutions. We will continue to support our valuable partner Mooij Forwarding & Logistics B.V.'s requirements with our wide range of high-quality products and extended after-sales services."
Features of Kässbohrer Curtainsider, K.SCD M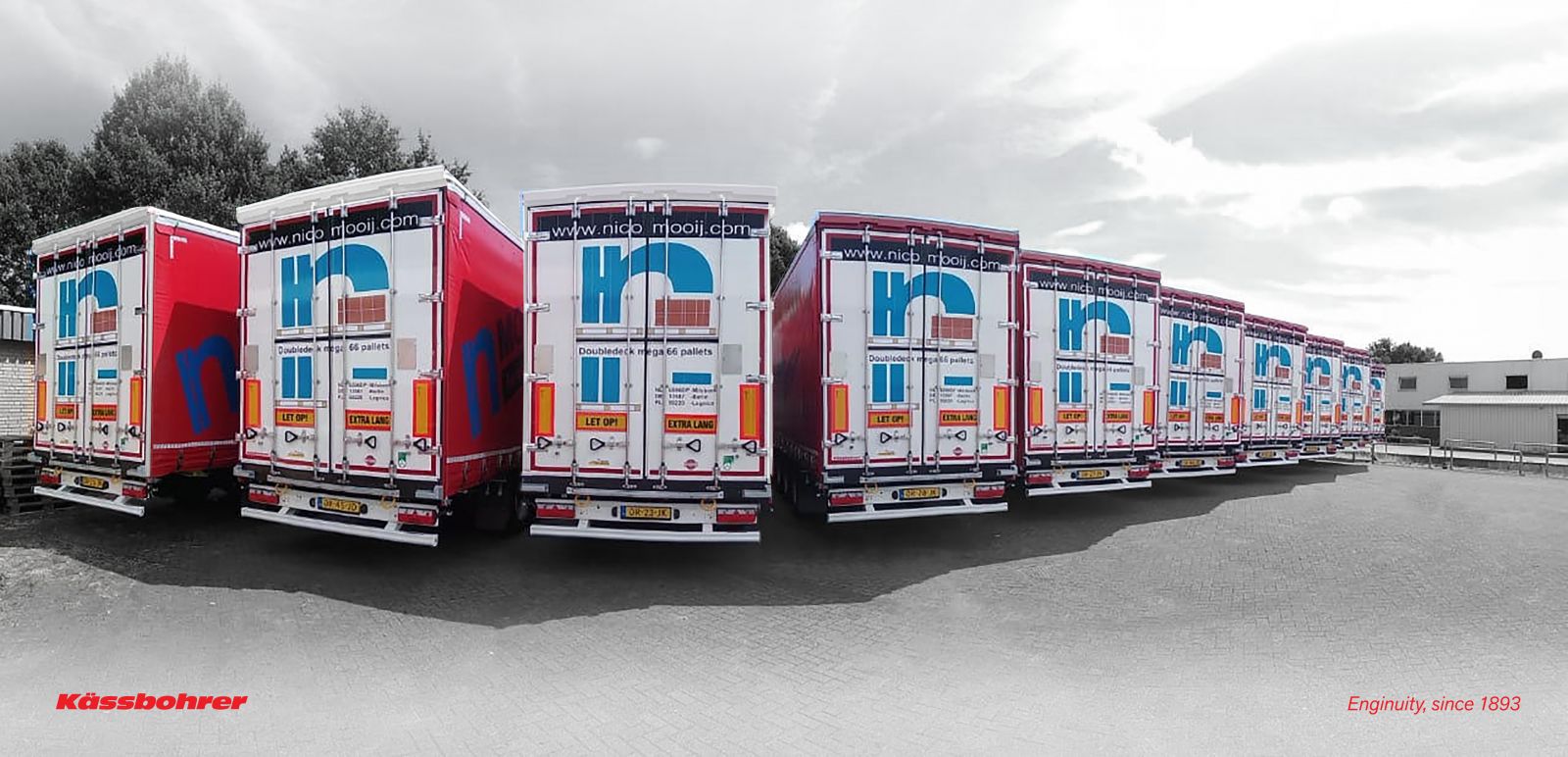 Engineered to provide flexible load capacity, K.SCD M has internal height of 2.950 mm.
Fifth wheel height of the vehicle is 950 mm.
King Pin Capacity of the vehicle is 12.000 kg.
Kässbohrer's mega curtainsider is equipped with 5 x 2 units of sliding lateral pillars for load securing.
Chassis of the vehicle is made of high quality and high strength S460 MC steel, in compliance with Standard ISO 1726.
Kässbohrer After Sales Services in Europe
Kässbohrer's broad after sales services are developed to take care of its customers, and wide after sales and spare parts services in Europe compliments their operations.
With K-Advance Care Service Packages tailored to each customers' operational needs as well as 24/7 Kässbohrer Hotline available in 27 countries and 23 languages, Kässbohrer's after sales services are attuned to meet the needs.