Kässbohrer Attended Bauma 2019 Fair with Success
24 April 2019
Offering the complete construction product range, Kässbohrer took part at bauma 2019, the heartbeat of the construction industry, taking place between 8-14 April, in Munich, Germany. During the fair, Kässbohrer exhibited a selection from its complete construction product range and introduced two new vehicles to the industry for the first time.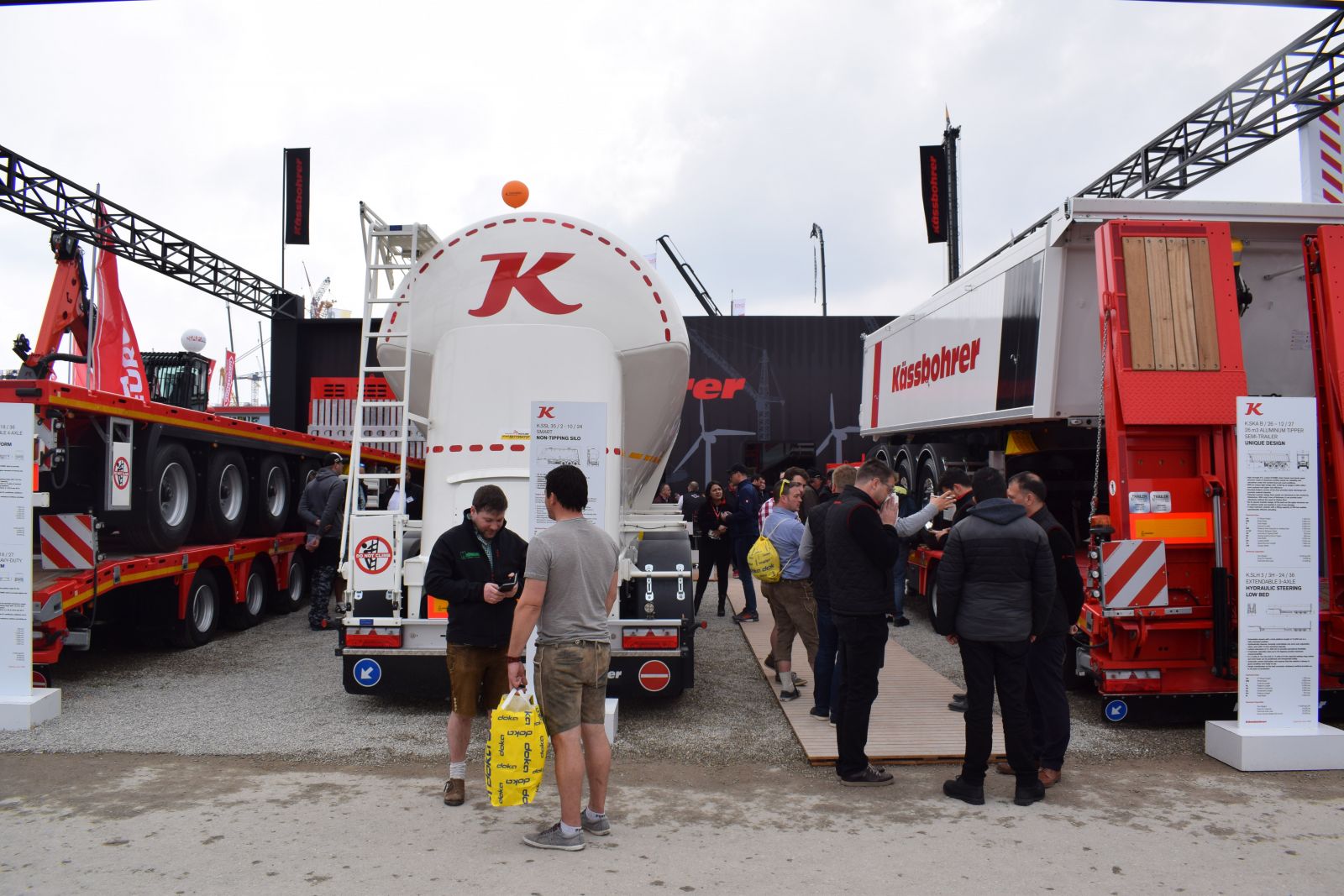 During the fair, customers and business partners from Europe, Asia and America had the opportunity to examine first hand the quality and robustness of Kässbohrer's construction vehicles and meet with the dynamic Kässbohrer team to learn more about the operational benefits.
Furthermore, press members had the opportunity for exclusive interviews and detailed examination of launched products.
Kässbohrer Launched Hydraulic Steering Low-Bed and Platform Vehicle for Heavy-Duty Transportation at bauma 2019
During the bauma 2019 fair, Kässbohrer introduced 2 brand-new vehicles to the visitors and press members, hydraulic steering Low-Bed K.SLH 3 and Platform vehicle for heavy-duty transportation K.SPS H 4.
Hydraulic Steering Low-Bed K.SLH 3 is Launched
Kässbohrer's brand-new hydraulic steering Low-Bed K.SLH 3 offers maximum maneuverability even on the narrowest curves in rural areas through 3 hydraulic steering axles up to 42 degrees. Furthermore, K.SLH 3 is equipped with hydraulically-steered, remotely controllable and auto-aligned axles; each with up to 12 ton technical capacity.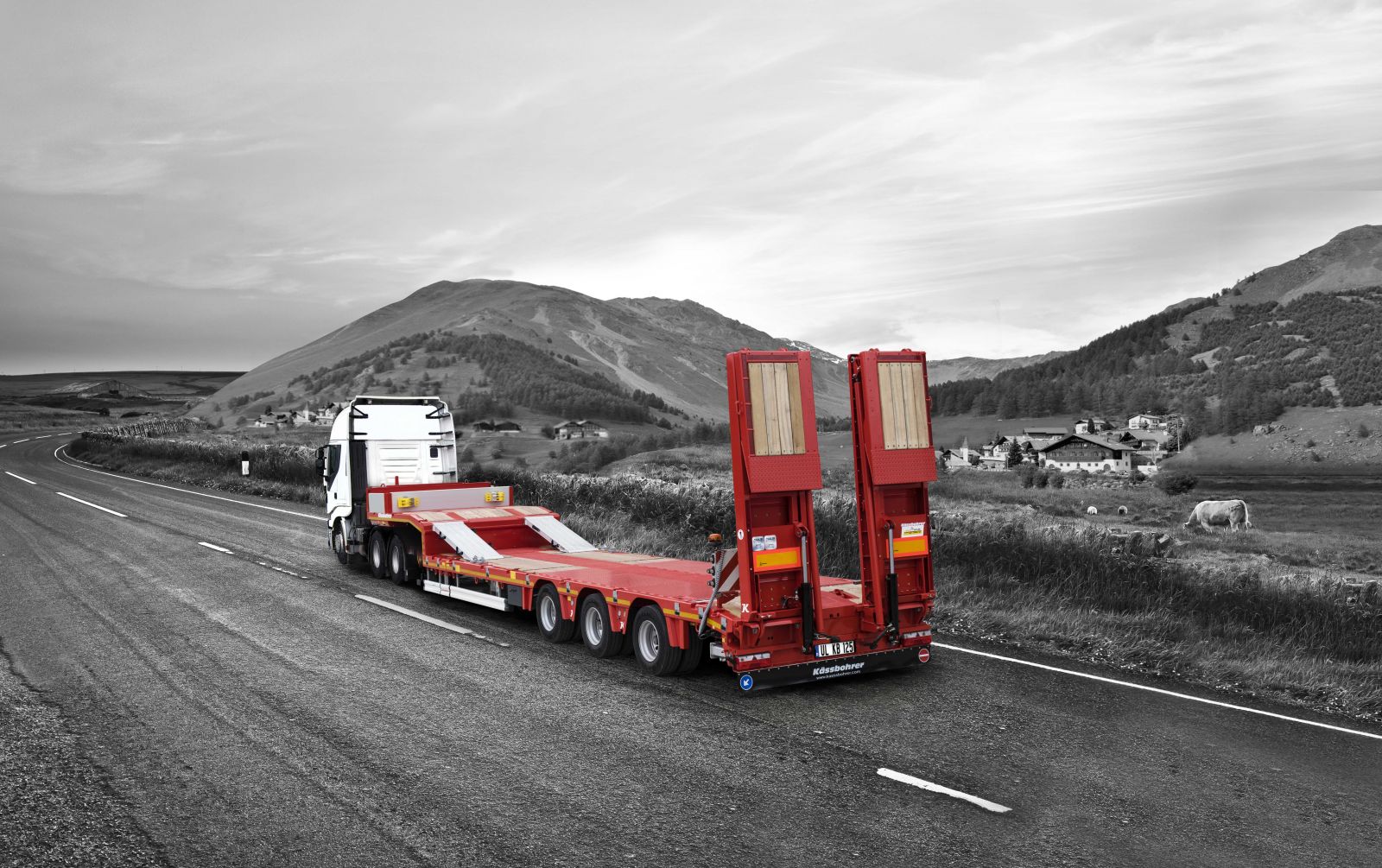 Despite the robust chassis and the usage of S700MC steel, K.SLH 3 is offered with robust and light chassis design and lower tare weight amount of 12.000 kg providing the higher payload. The usage of S700MC steel with higher yield strength allows light-weight solutions which directly leads to financial savings, fewer gas emissions, and less fuel consumption.
Platform Vehicle for Heavy-Duty Transportation K.SPS H 4 is Introduced for the First Time
Kässbohrer's non-extendable heavy-duty platform semi-trailer with 4 axles, K.SPS H 4 provides robust and safe transportation of heavy, flat and ballast goods with its rigid and flat chassis, variable container positioning combinations and different load safety options with EUMOS-40511 and Code XL certifications.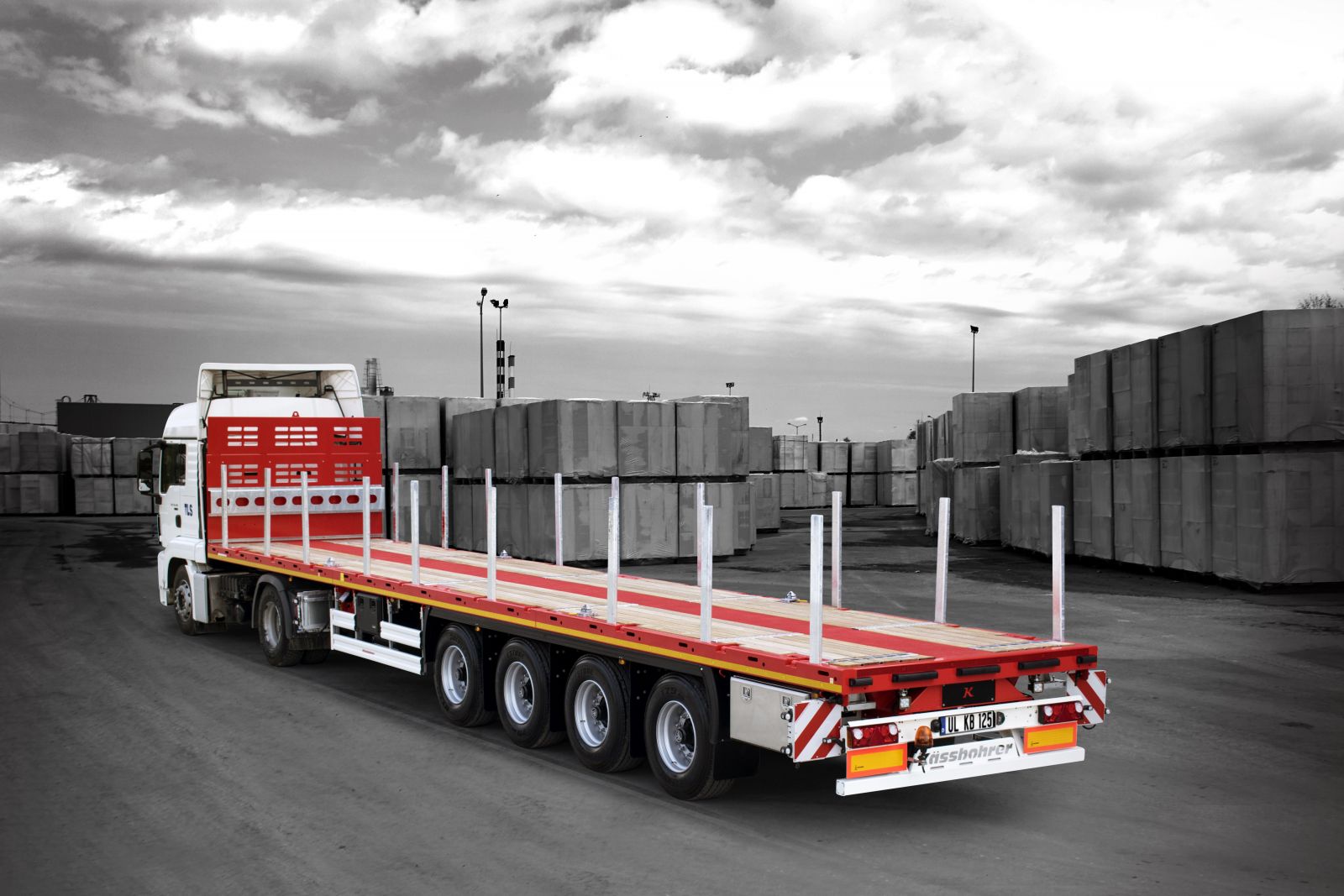 Adaptable to trucks with 5th wheel heights from 1.100 mm up to 1.250 mm, with its flexible storage options under the chassis and variable load safety features and new lashing rings with increased capacity of 13,4 ton, K.SPS H 4 enhances the operational flexibility whilst offering a robust and safe transport solutions.
A Selection of the Complete Construction Range is Exhibited during bauma 2019
During the fair, Kässbohrer exhibited extendable heavy-duty platform semi-trailer with 3 axles K.SPA M for flexible and safe transportation solutions for heavy, long, flat and ballast loads, robust aluminum tipper K.SKA with unique light design for more payload and higher fuel efficiency and Trailer Innovation 2019 category "Concept" nominee non-tipping silo K.SSL 35.
Kässbohrer After Sales Services in Europe
As a result of its customer-centric approach, Kässbohrer offers a wide range of after sales services to its customers.
For its customers that are operating in the construction industry, Kässbohrer offers 4 years extended warranty to a wide selection of its complete construction product range including bauma 2019 fair vehicles K.SSL 35 and K.SPA M.
With K-Advance Care Service Packages tailored to each customers' operational needs as well as 24/7 Kässbohrer Hotline available in 27 countries and 23 languages, Kässbohrer's after sales services are attuned to meet the needs.