No Limits for Kässbohrer's Low-bed
Kässbohrer Provides Maximum Productivity for The Challenges with All-purpose Vehicle
02 February 2018
Kässbohrer's enginuity continues to provide the exact solution to its customers in special transportation business, heavy commercial transportation, moving giant loads on challenging areas through tight corners.
A transport company, Friderici Spécial SA is located in Tolochenaz, Switzerland. This company is also known as a Kässbohrer dealer which provides trailers and spare parts. Kässbohrer`s K.SLL 2, an extra low-bed product which has ten different alternatives within the product categories of Kässbohrer, is the most preferred model by Friderici Spécial SA.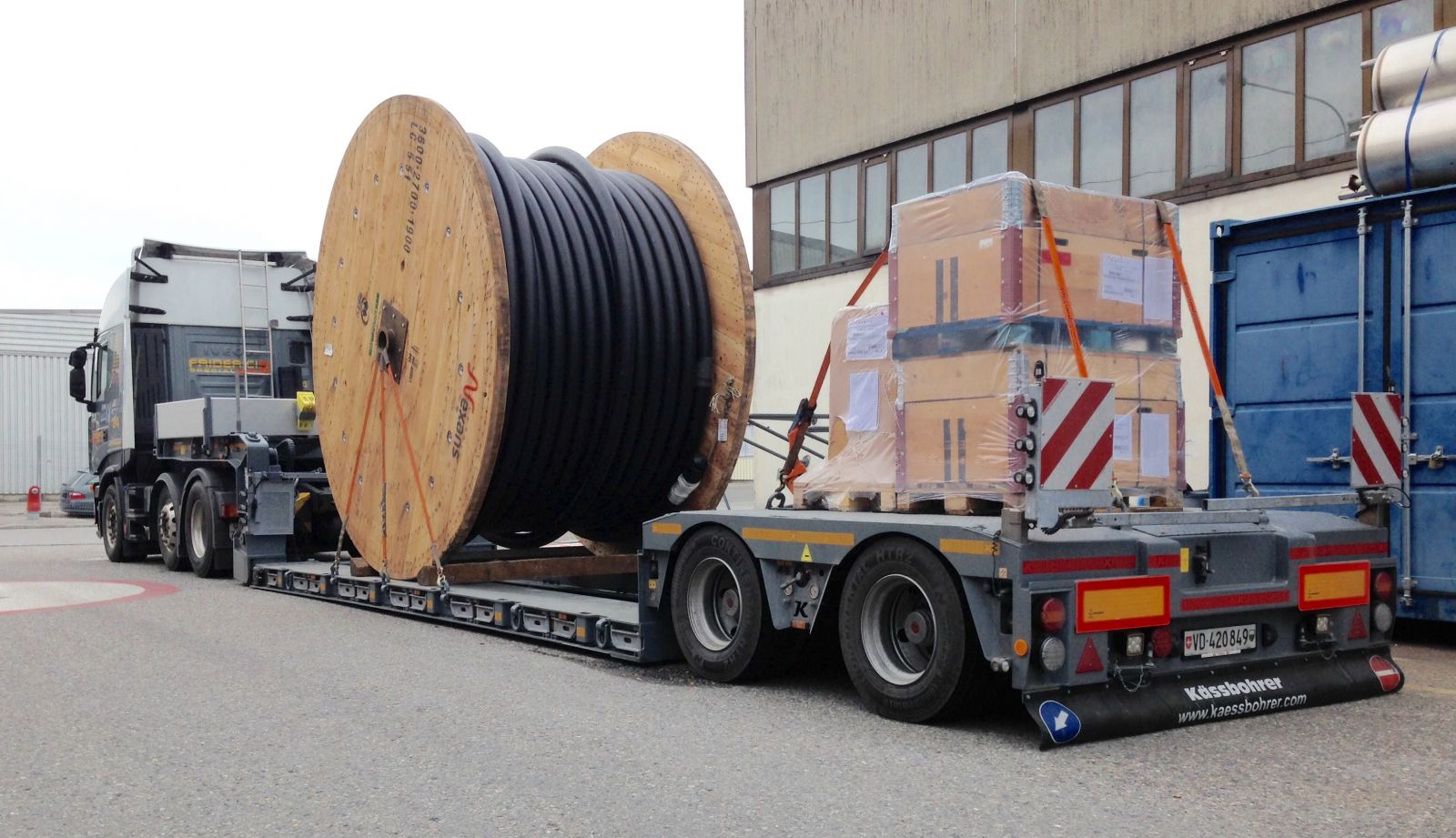 Enginuity is the motto of Kässbohrer which combines modern "engineering" with "ingenuity". Kässbohrer reflects its motto in every way. All customer demands are met by offering well engineered and innovative solutions. Kässbohrer always sets new standards in the transport industry. In the awarded R&D center, innovative solutions and qualified engineering services are offered by the specialists to achieve a high level of efficiency, simplicity and reliability. Customers from all around the world can easily get in touch with the Kässbohrer team, who have the priority to work close to the customers to meet their needs and offer a good customer experience.
This approach led the Kässbohrer team accompany the loading operation and the journey of Friderici in order to monitor the performance of K.SLL 2 and listened the user experience at first hand from Théo Duperrex, the Fleet Manager of Friderici Spécial SA. who added K.SLL 2 to Friderici`s fleet last year.
One of their customer's construction equipment had a breakdown at jobsite on route between Langenthal and Geneva in Switzerland. The delivery of the substituted equipment was a critical situation. But with Kässbohrer's low-loader extendable semi-trailer serie K.SLL 2 which has a detachable gooseneck compatible with longer load, the operation continued with a minimum interruption. "For these situations and in these tight areas, the drivers make lots of effort to move the vehicle. With K.SSL 2 maneuvering can be done in half the time than a standard vehicle. This feature makes Kässbohrer K.SLL 2 different from its competitors and helps us in many challenged works. It is really strong factor for us to recommend Kässbohrer without any doubt, we have already experienced it." stated Mr. Duperrex.
Ease Of Use And Faster Operations
K.SLL 2 is engineered for the demanding requirements of heavy transportation and includes low-loaders with 2 to 4 axles, equipped with hydraulic steering and pneumatic suspension, and width options of 2,540 mm and 2,740 mm. In this way the detachable gooseneck can be used to load or extend the beam. Mr. Duperrex mentioned that the detachable gooseneck as well as the additional front ramps, allow easy front loading and unloading on jobsite. For the driver, it was very easy to extend or shorten the platform of K.SLL 2, which reaches up to 5.200mm.
Friderici Fleet Manager Mr. Duperrex stated: "Kässbohrer has many strengths. Kässbohrer`s K.SLL 2 is user friendly and able to be used for in-all functions. Special goods can be carried safely with this special chassis construction. A competitive all-purpose vehicle for our daily business makes it one of our best vehicles for the small building equipment transfer."
It is a strong collaboration between Kässbohrer and Friderici Spécial SA. Mr. Duperrex underlined, "For Friderici Spécial SA, Kässbohrer is definitively becoming a strong partner with innovative solutions, technical supports and service quality."
Kässbohrer will keep providing more flexible and innovative solutions for global customers' specific needs.